May week 100 - 105
Another two weeks at home doing the usual walks and then my holiday cases are packed and in the hall and I am off to stay with Jennie, Paul and Scott, and the chickens of course.
Helen, Ed and mum are off to Tokyo and Hong Kong. I got a postcard after a few days so I knew they were alright, and I sent them a text message to say that I too was having a good time. It was my second birthday whilst I was here and Jennie bought me steak for dinner.
I sleep with Scott when I stay here and when Paul gets up and goes to work early I pop into bed with Jennie because Paul leaves the door open for me. Isnít that thoughtful?
Mum rang us when she got home on the 24th and I came home on 25th May. Mum was really excited, because she has been working all winter on a Heritage Lottery award for Dunstable and she heard yesterday that she had got it. She has now been on the phone almost constantly for two days sorting it out. It keeps her out of mischief I suppose, but I have heard all I need to know about medieval Priories this week.
2nd June week 107 - 110
We have only been home for ten days and we are off again to north Wales in the caravan.
Sunday 5th we hitched up and by 10.00am we were off. It was a long journey and we stopped for a drink and a walk after a hundred miles. Our rally is on a field next to Carrog station in the Dee valley. Every day the steam train huffs and puffs into the station, blowing his whistle and making lots of noise. The train goes back and forth to Llangollen along the valley which is beautiful. The river Dee runs along the other side of our field and every morning we walk along it and I have a paddle. It tastes cold because it is running off the mountains around us.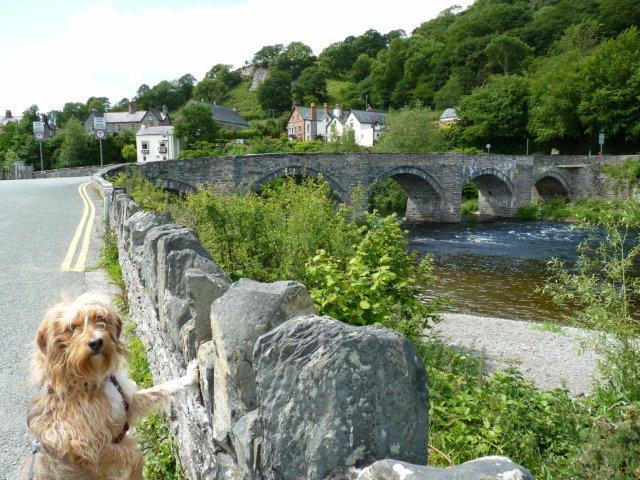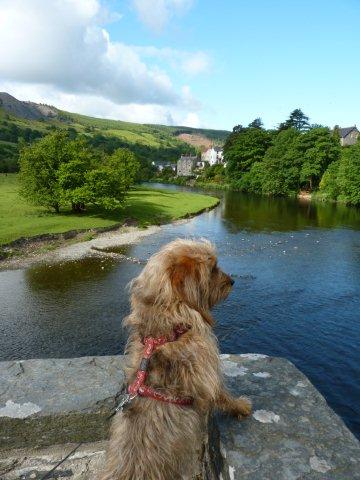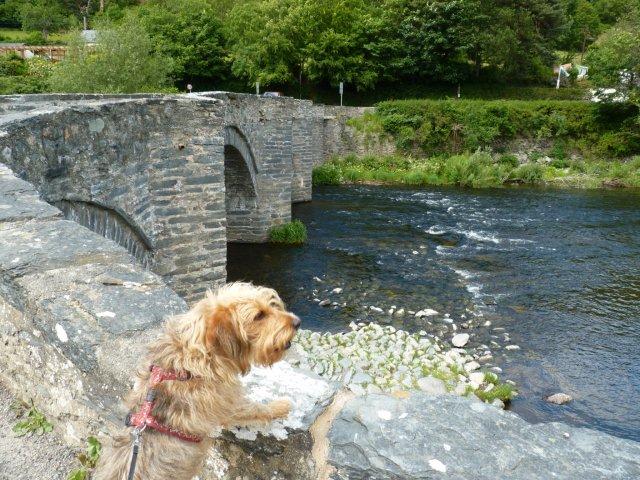 On the second day here I startled a pheasant in the grass and two little chicks ran and hid while she flapped her wings and took me away from the babies. Mum put me on a lead and we went the other way because she said the babies need their mum and I was not to disturb them any more. The next day I found a water vole on the bank and he ran into his hole. What an interesting place. We are told that there are otters here, but we have only seen ducks, and sheep in the field on the other side of the river.
Mum and I have been out in the car exploring and we have had some great walks. Valle Crucis Abbey was on mumís list of places to research and we combined that with Horseshoe Pass. We had a good look around Llangollen one day. We parked where they hold the Eisteddfod, you cannot miss it there is a huge harp by the car park, and then we walked into town and up and down the high street. We had lunch at the station and then we walked along the canal. They have huge horses pulling boats along the canal, and you can ride on these, but we walked which was better because you can smell all the good smells when you walk. Then we went to the aqueduct at Pontcysyllte. Here the canal is in a big metal trough way up in the sky and the boats glide over this bridge about 150ft above the valley. It is the longest and highest aqueduct in Britain, 1,007 ft (307 m) long, 11 ft (3.4 m) wide and 5.25 ft (1.60 m) deep. We walked across it and looked at the valley floor. It was very narrow, just enough room for the boats to get along one at a time with a narrow path at one side for us.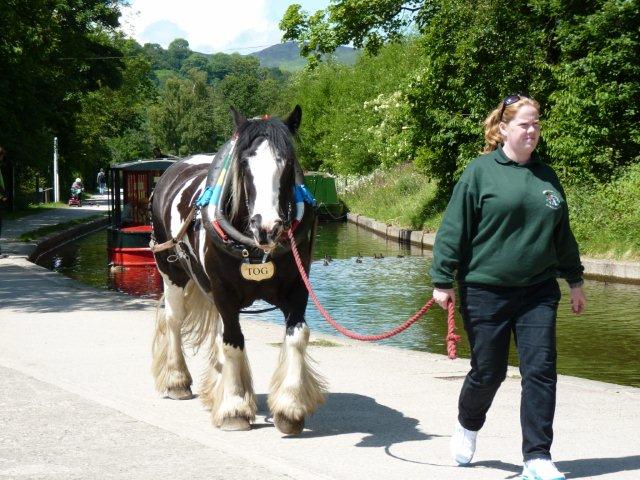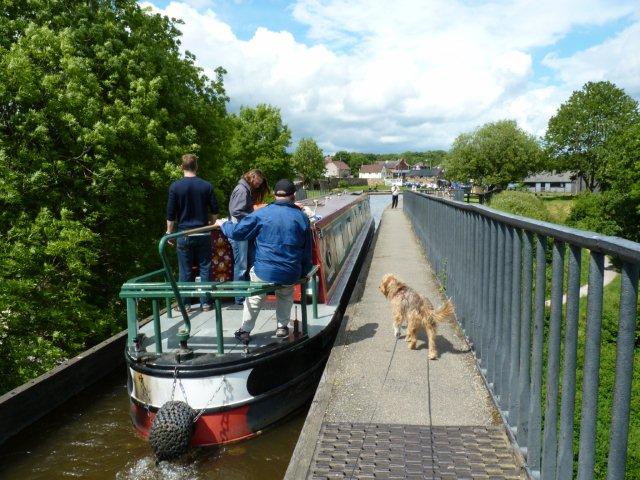 The next day, Thursday, we looked after the field and everyone else had a ride on the train. We saw them off and then met them when they came back. This is the view of the train from our caravan.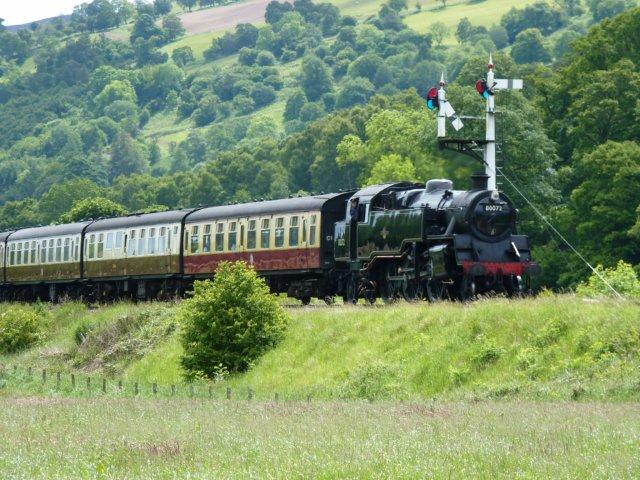 Saturday we went to the Wirral to see mumís friend Helen who is not very well. She is in a nursing home and so we took her some flowers. Last week, she bought an electric wheelchair so that she could get out and about because her legs donít work properly. The first time she went out in it she tipped it over the edge of the pavement and fell in the road. She was lucky that she just has a black eye, because the chair landed on top of her.
After ham for lunch we went out for a walk. We watched Helen very carefully to make sure she did not have any more accidents. It was a good walk, we went through the park and on to the sea front at Hoylake. Helen said she felt a lot better for her walk and I have to say I did too.
The next day, Sunday, Tony came and everyone apart from Finlay and me went out for lunch. Tony likes heritage trains and so he thought we had a good spot for our caravan. He is staying in an old house at Corwen. The next day we three went to Lake Verney and across the dam. It was a beautiful trip, lots of stops for walks in the woods and by the water.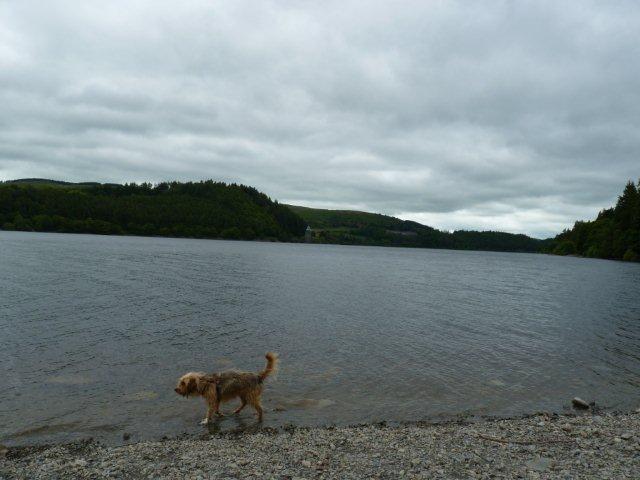 Another first for me on Tuesday. Tony drove and we went to a place called Tan-y-Bwlch. We got on the huffy puffy train and off we went to Ffestiniog and then we came back. We were right up the front by the engine on the way there and right at the back on the return journey. I watched out of the window all the way there and back.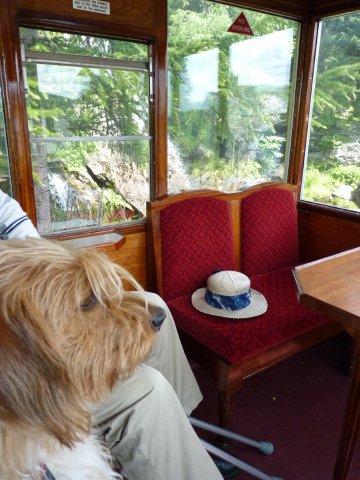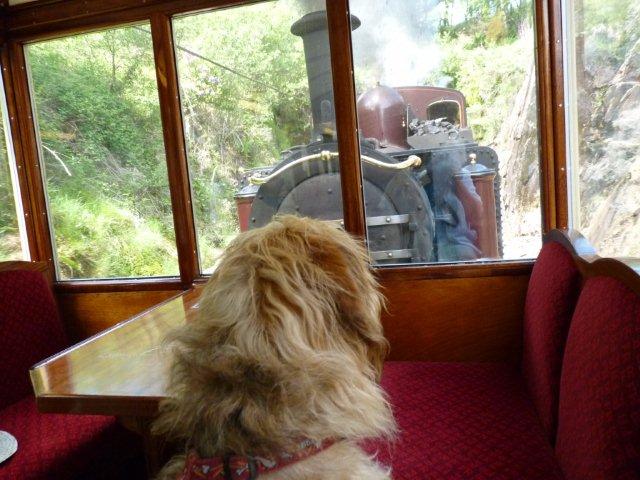 Then we went to Harlech and on to the seaside and I ran and ran on the beach and in the rockpools. I got sand up my nose and in my fur. The water tasted a bit funny and mum said not to drink it, but I did!
The next day we went to Rhug chapel and then after lunch I was left on my own and mum went to Llangar.
We had another day when we stayed in this week and down came the awning so we are off home soon I suppose. Great spot here at Carrog, I really love it and hope we come again.
June 20th
Washing, washing, everywhere. Mum rushing around saying just twelve days to clean and pack everything. I got a nice walk this morning and saw a few of my friends. From what they said I donít think that I missed much when I was away.
June 30th week 111
We are cake making and packing again for Derbyshire and I am going to be in charge of the caravan rally again, although it seems we are also doing some lottery project church photos while we are there. Dunstable Priory owned several churches near to where we are going in the 1200s. That is 800 years ago, now how many dinners could you eat in 800 years? We should also see Sophie who lives with Christine. She was just a tiny pup last year, so this year she should be able to run and play with me.