Sunday 9th August
We hitched up the caravan to the car and set off really early. By the time Iíd had my nap we were near Derby and stopped for a comfort break on the A50. After that it wasnít long before we arrived at Hognaston. Our pitch was great, lovely views over Carsington Water and just through the fence was a field of sheep.
Lunch was a bit late today as we cracked on with the jobs first. I helped as usual moving the pegs and mallet to where I thought mum would need them next, and we soon had the awning up. After all that exertion I collapsed.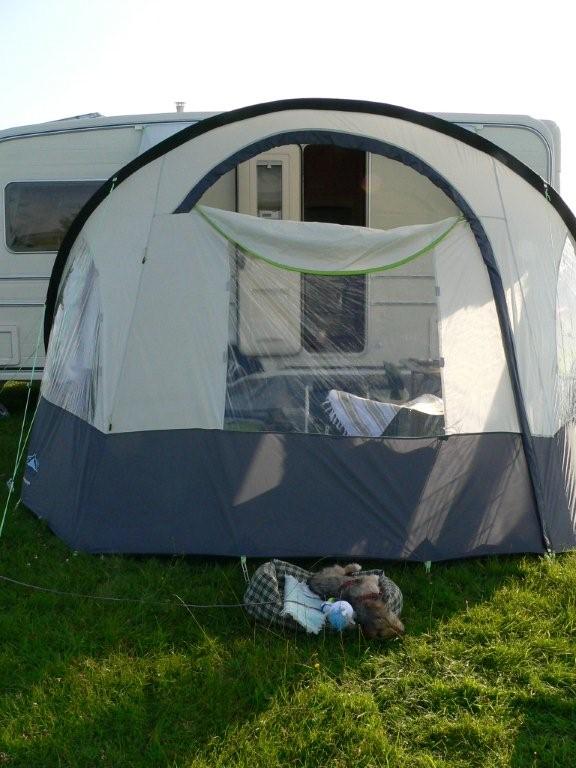 We went to meet the other ralliers at tea time. There were no other dogs, so I got all the attention and a biscuit.
Monday 10th
Drizzle and rain all morning. Spent an hour with Tom and Kath while mum popped out and then had a walk in the afternoon when the sun came out.
Tuesday 11th
Up at 5.20am for a call of nature and then into bed with mum.
I had a nap on her head. We went to see Christine and Hilton today. What a great place theyíve got, loads to explore. I bravely used the stepping stone to walk over the water to reach the secret garden and I helped tidy up some garden cuttings.
After lunch we walked into town, stopping at Vivienneís antique shop and also to speak to a number of people who knew us, but I didnít know them. I was not too keen on pushchairs and people carrying large bags of shopping, but I coped really well with the traffic and crossing roads.
We climbed the steps to get home, because the house is at the top of the hill in Ashbourne and then I had a nap. When I woke up the cows in the field next to the terrace were right up against the fence. They were a bit too close and a bit too large so I retreated indoors, discretion being the better part of valour. It was dark when we drove home to the caravan and past my bedtime.
Wednesday 12th
Had a bit of a lie in this morning. Mum got me up at 8.00am and then it was all systems go. Donít know what the rush was all about because it was a drizzly morning and not worth getting up. I helped mop out the shower and then we went to fetch water. Shreddies for breakfast today, which were nice for a change and then back to bed for the rest of the morning.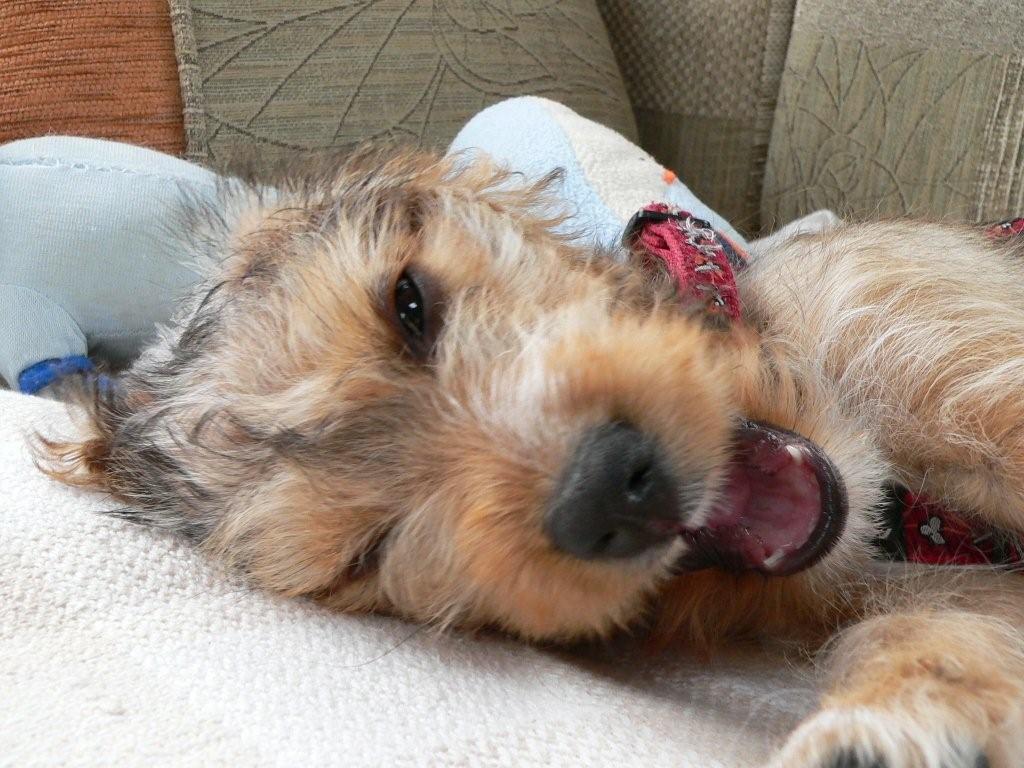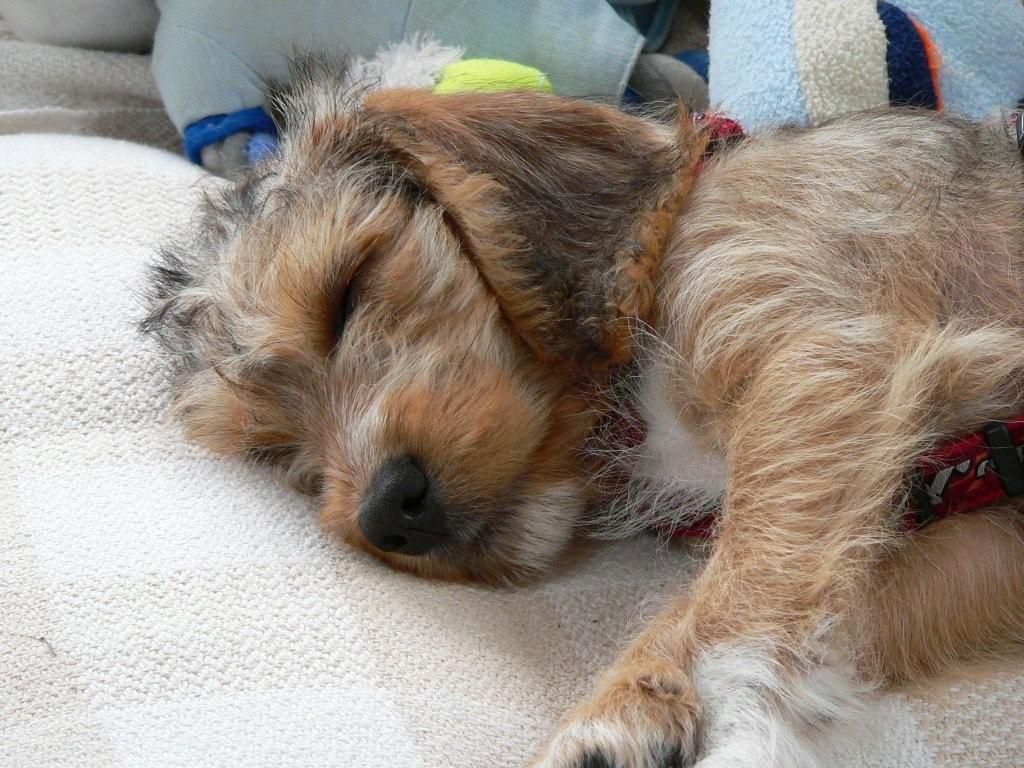 Wafer thin ham with my Bakers Complete topped with a slice of cucumber for lunch. I had some time with Ken and Dorothy today while mum went out for gas. I got some walks in the field and we all had tea together this afternoon. Went out this evening to watch for shooting stars but neither of us could see anything.
Thursday 13th
Our day to Ďdo a dayí today which means we are in charge of the field.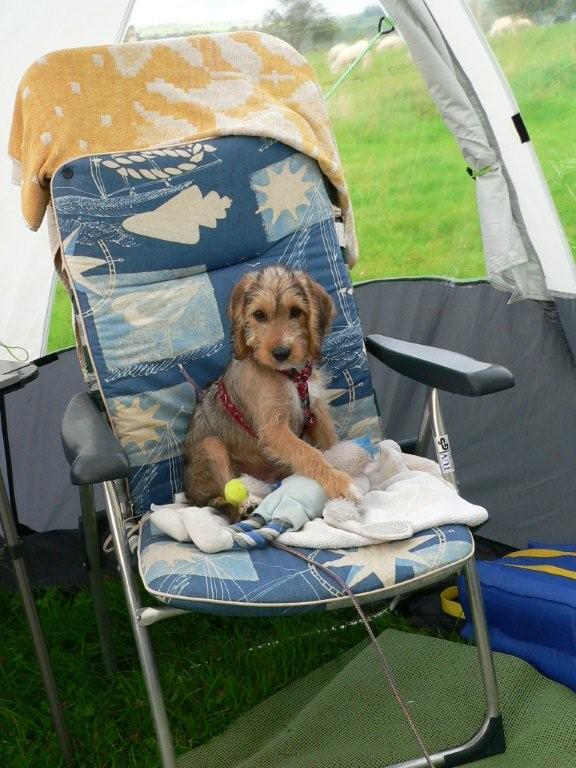 Christine came to see us today and I had a taste of mumís ice cream, which was really nice.
I have now spent many hours researching the behaviour of sheep. They never stop eating, but itís all the same food, no variety at all. They make quite a lot of noise and when I am watching them they watch me. Every time I try to be friendly and have a closer look they run away. They look quite furry and cuddly but I think they are a bit stupid.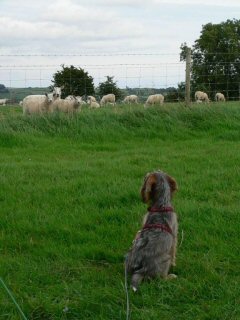 research into sheep behaviour
Friday 14th
We took Ken and Dorothy to Tissington today. We walked right round the village, it is quite beautiful with lovely cottages and a big manor house. We stopped for coffee and then at the butcherís shop. Just before we got back in the car mum asked if I would like a drink from one of the many wells in the village. They dress these wells at Ascension time with flowers. The well I chose bubbled into a stream that ran along the side of the road. I found that if you ran up and down in the stream it made a lovely splashing noise and was great fun.
In the afternoon I got a small soft ice cream cone and it was yummy.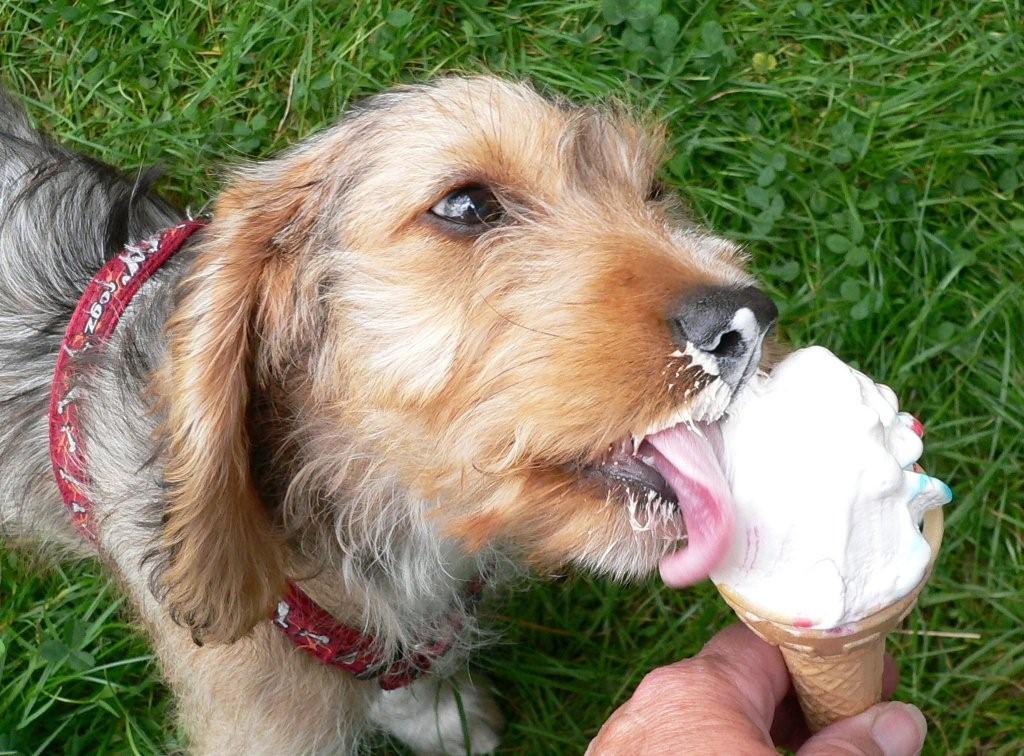 Saturday 15th
Mum and I needed to get supplies this morning so we went into Ashbourne market. This foray took us over an hour because we were stopped by more than 10 people who made a fuss of me and wanted to know exactly who I was. Mum said I wasnít to get big headed, because after that I thought everyone wanted to speak to me.
Sunday 16th
Christine and Hilton came to see us today and we had a BBQ. They had steak from the Tissington butcher which they all said was wonderful. Personally I couldnít comment because I didnít get any. However it was nice to have guests because you do get new tastes and supper was cheese with a little smoked salmon.
Mon 17th
Mum had put the rolled up windbreak under the caravan, so this morning I removed the poles from the fabric and laid them out on the field.
windbreak tidying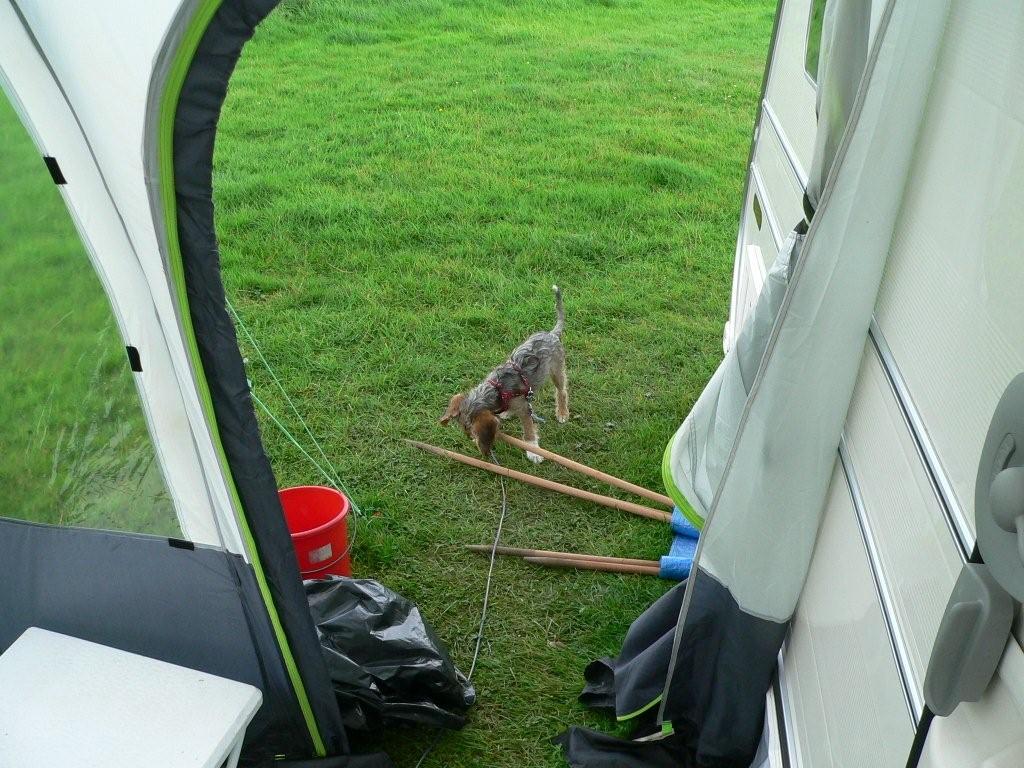 This afternoon we went out in the car and I sat up in my cage and watched. It was a very pleasant run round the Derbyshire Dales with a stop for tea and cake at Matlock in the park.
I barked at the sheep in the next field tonight and I got told off.
Tuesday 18th
Had a rest this morning while mum worked on her laptop. After lunch we set off on an expedition around Carsington Water. We met lots of people on bicycles and walkers with dogs of all colours and sizes and we were stopped many times by people who wanted to talk about little olí me. I think I must be unique. I am used to hearing Ďisnít he cuteí, but today we got Ďbless my soulí and Ďcoolí as responses to my breeding. I rather like to be called Ďcoolí, sounds kind of, well, cool!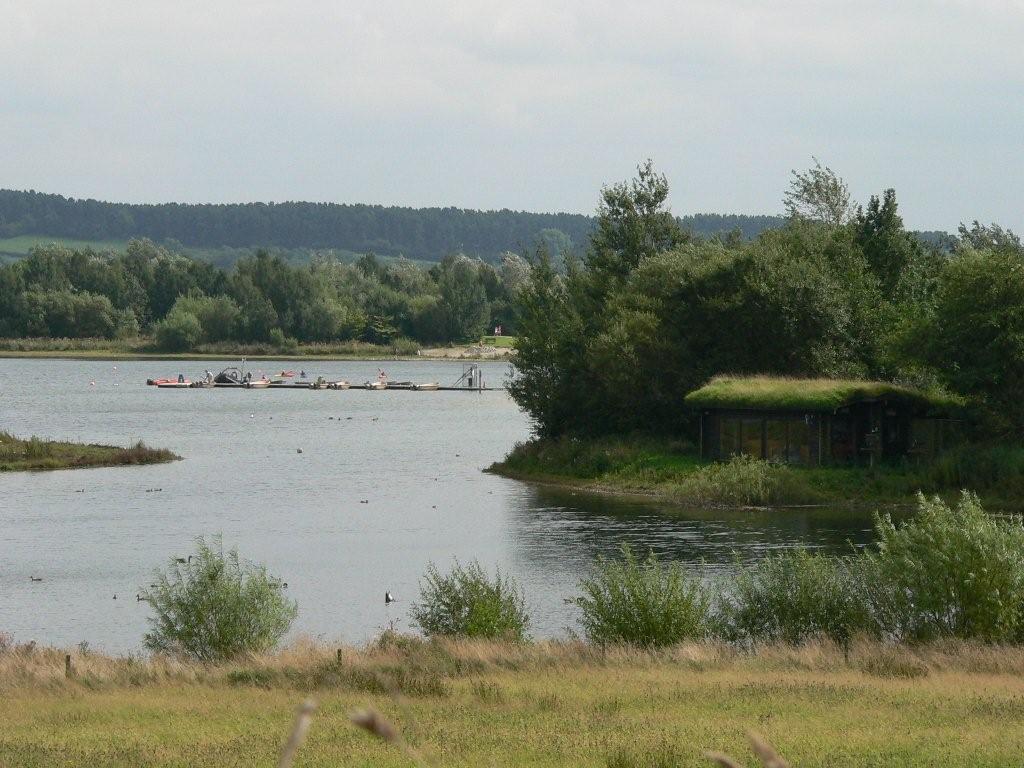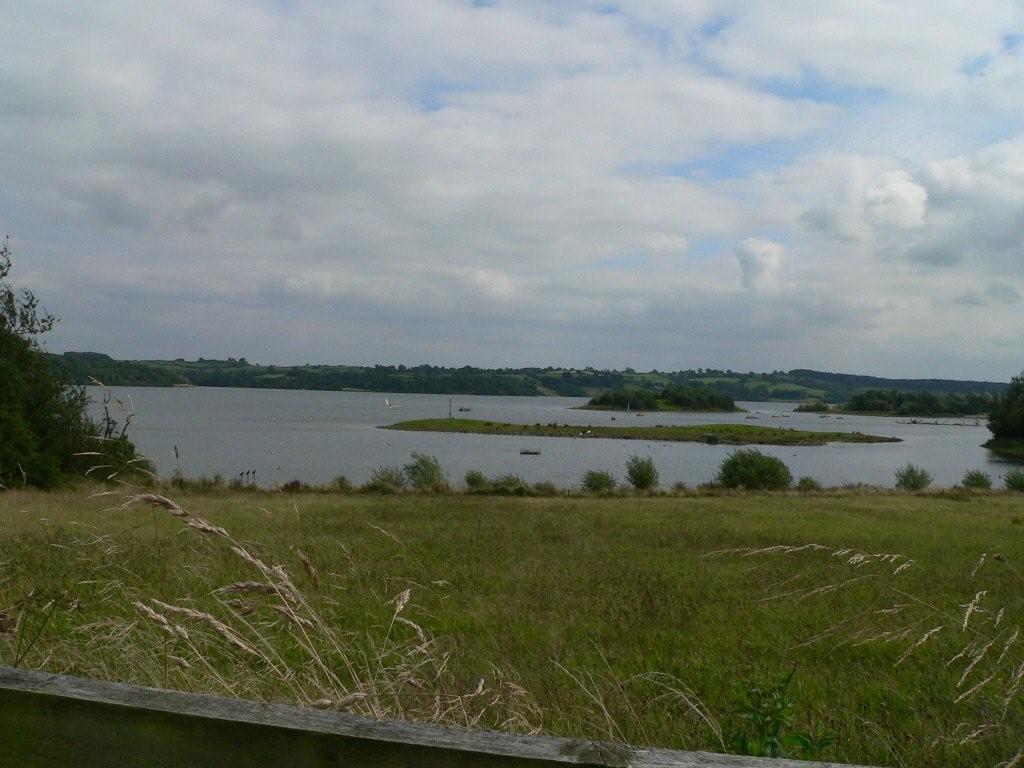 Carsington Water
After an hour or so we stopped and returned the way we came. A nice paddle in the lake with a Sealyham and then I got really interested in goose poo, so we came home.
paddling at Carsington
Vegetables are really good for you so I helped pod the peas for dinner, tasting them as I worked.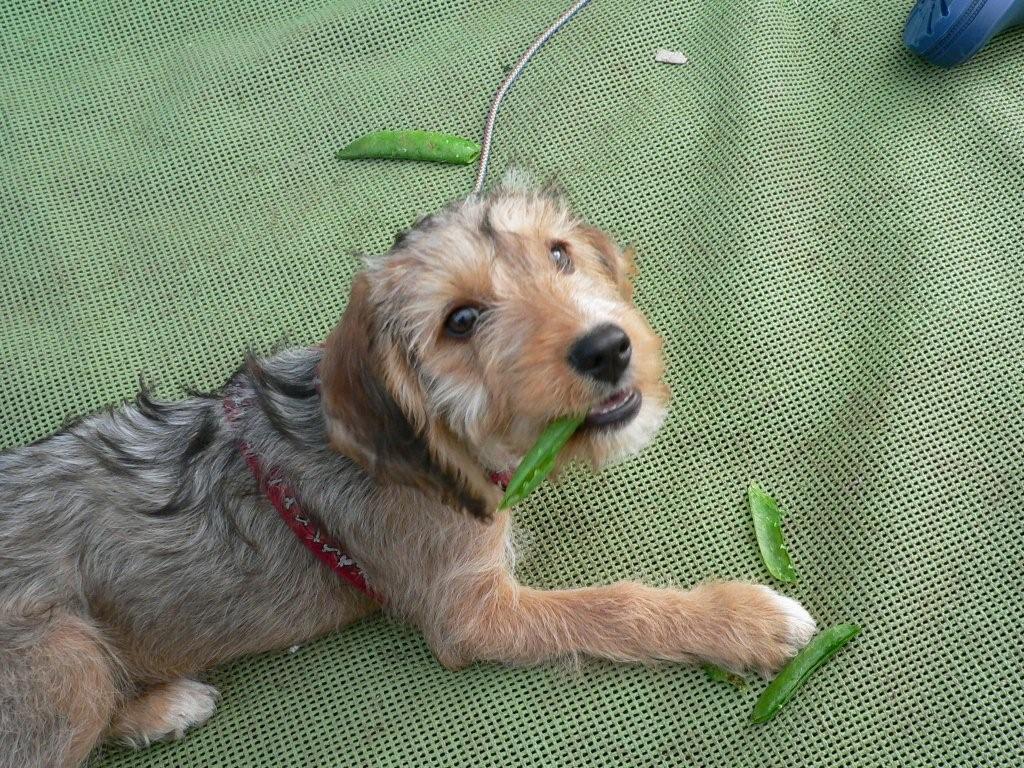 I found out how to get into the rubbish bin tonight. The effort was so worthwhile as the treasures that bin held were just fantastic. I had just retrieved the lamb chop bone when mum pounced on me. She put everything back in the bin, including the tea bag, well sheís welcome to that it didnít taste nice at all, and then I got a finger wagging lecture.
Ken and Mick went fishing from a boat today, but they only caught one fish, so it was no good hoping to get a taste of that for supper.
I kind of understand what Ďnoí means, but I still like to play-bite, and I get forgiven when I finish with a lick.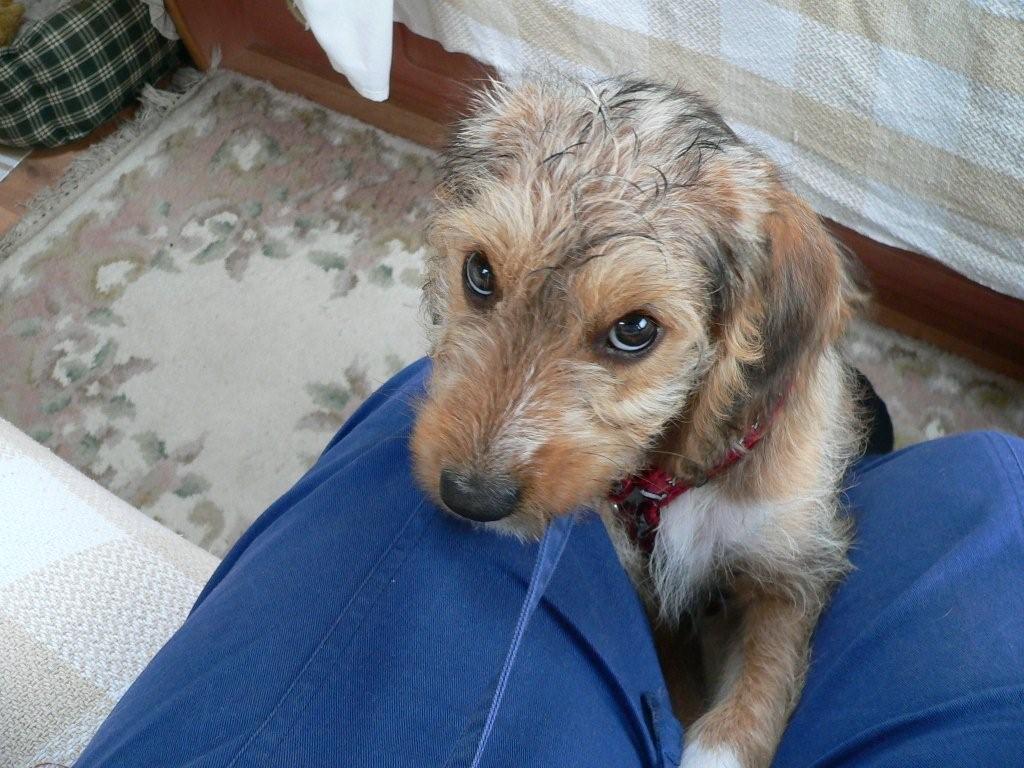 forgive me
I just fit the width of the caravan bunk now, nose to bottom I am 24inches. My tail is really long and when I walk it is upright and I look very smart. My dreams are exciting now. I just used to suckle, but now I dream about running and barking and places where I have been. When I wake up I always yawn and stretch my legs and mum says Ďthereís another quarter of an inchí.
I find so many things to explore and to stare at, new experiences need a lot of thought. Sometimes I sit upright and take a good long look, sometimes I stand with one front paw bent which I think helps me concentrate.
Wednesday 19th
This is me standing up on the bunk looking out of the window.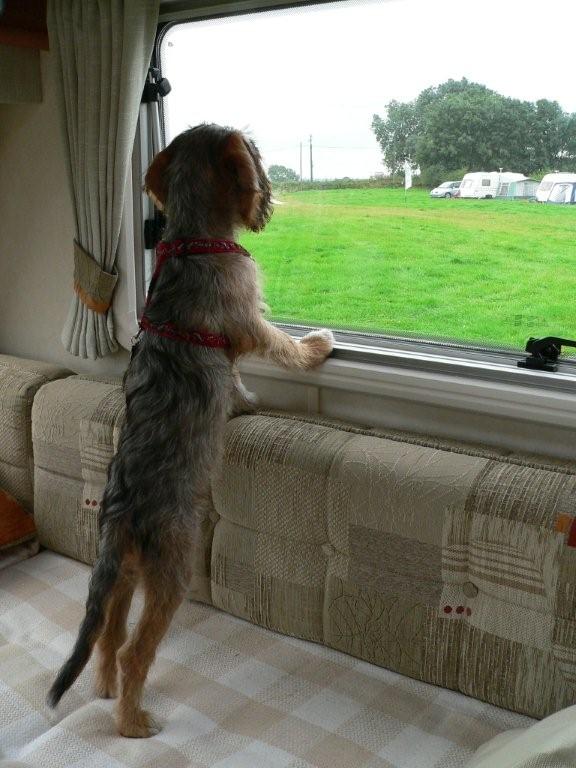 We had a bit of a lazy day today, so I had plenty of sleep. Supper was some chopped up sausage with mashed potato. This was scrummy and I did not take my head out of the bowl until every last sniff was gone. Mum says I am a bit of a picky eater, but as long as I eat my Bakers complete itís OK. So, in the middle of the night just to please her I got up and crunched my way through my bowl of Bakers. I just knew she would be pleased that I was eating it, so I made sure that she was awake. My body clock is a bit strange sometimes. Usually I donít want to eat anything until about 11.00am because Iím too busy sleeping, and then I want to eat in the afternoon and evening.
The farmer and his sheepdog came in our field today to round up some sheep that got away. The farmer and some of our members were running around getting the sheep through the gate while the sheepdog came and spoke to me. I thought that was very polite of him, but the farmer was not impressed.
Gerry arrived today. He hasnít seen me for 4 weeks and he is surprised how much I have grown. Itís all down to those nutrients that mum keeps on about apparently. She does worry when I donít eat, but I know what is good for me.
Thursday 20th August
14 weeks old today and I am a special star as this is the third morning in a row that I have had a dry pad. It is windy and grey this morning so we jumped back into mumís bed while she had her coffee.
The weather has been pretty good while we have been in Derbyshire which is just as well as I donít like going out for a wee in the wet.
Mick and Dorothy came over for coffee this morning and we discussed the next caravan rally. Thatís a good sign, because I like this life.
After lunch we went out with Gerry and Myra. I sat on mumís lap on the back seat and I could see where we were going. First we went to Alport Heights, the other side of Wirksworth. There was a map on top of the hill that showed you how far things were on the horizon, but who needs to look at power stations and Long Mynd when you can sniff the rabbit burrows and run with the wind flapping your ears. It really was windy up there so we moved on to Alderwasley to look at a new rally site. Nice field with electrics, sheltered, fishing and a room to use in the evenings. We will be coming back here with the caravan.
When we got back to the field we all had a cup of tea and I found a biscuit under the table. I had a rough game with Phil who had arrived in his motor-home today.
Friday 21st August
On our walk last night I got a lecture about Ploughs and Bears and things in the sky. It was a beautiful starry night, but cold. This morning I was waiting for mum to wake up and eventually I had to tell her it was 7.00am and time to go out. It was sunny but still cold, so when we came back in, I got inside her duvet. My birth mother Bagel is also called ĎDuvet Dogí and I think she has a point. After an hour mum got up and uncovered my head, so this is me while she was having her shower.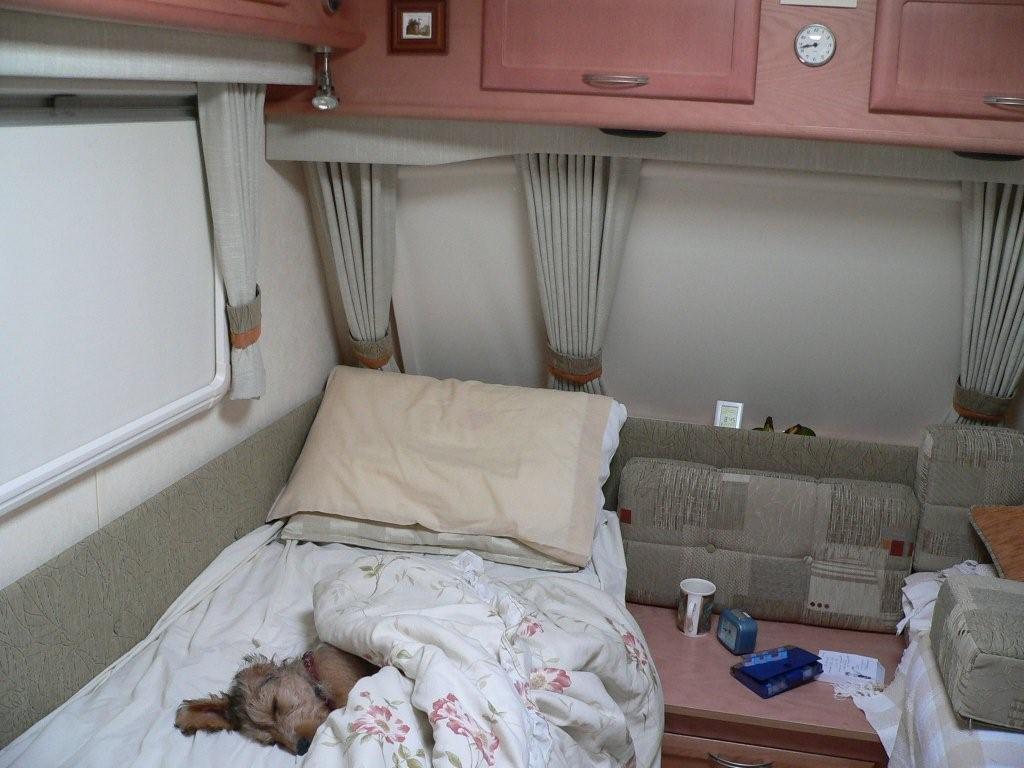 At 8.45am she said I really had to get up. I was just soooo comfortable, but she was right I really did need to go out.
We went to see Christine today and she took mum and me out in the car. We went to Cromford and saw Arkwrightís Mill and the Cromford Canal. I sat in the front on mumís lap and it was very interesting watching where we were going and then I fell asleep. Mum had my harness hooked on the seat belt so I felt very safe.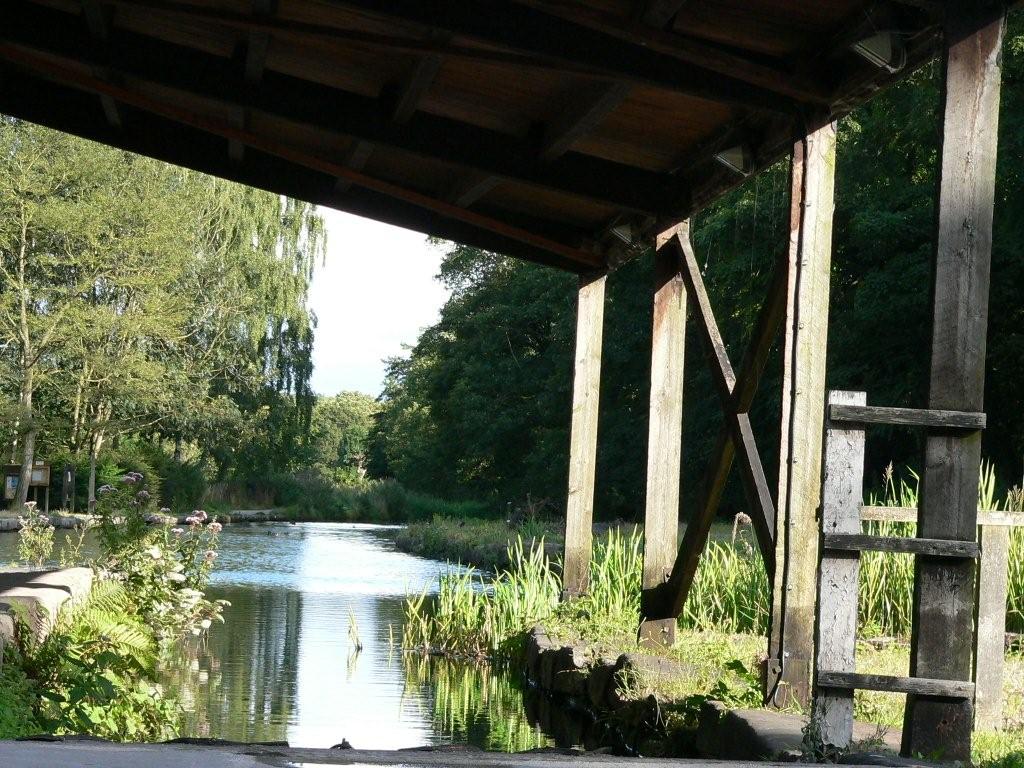 Cromford Canal
Saturday 22nd August
I woke mum up at 5.00am because I wanted to go out. She put me back in my bed after my wee, but I cried until I was allowed into her bed. It was cold, so I crawled down inside the bed and snuggled up near her feet. What a great place on a cold morning.
Lots of activity today. Awning tidied and emptied, pegs pulled out and then awning taken down. I feel a bit lost, everything has moved. My bed is inside, my bowls have moved and there is not much shade for a nap.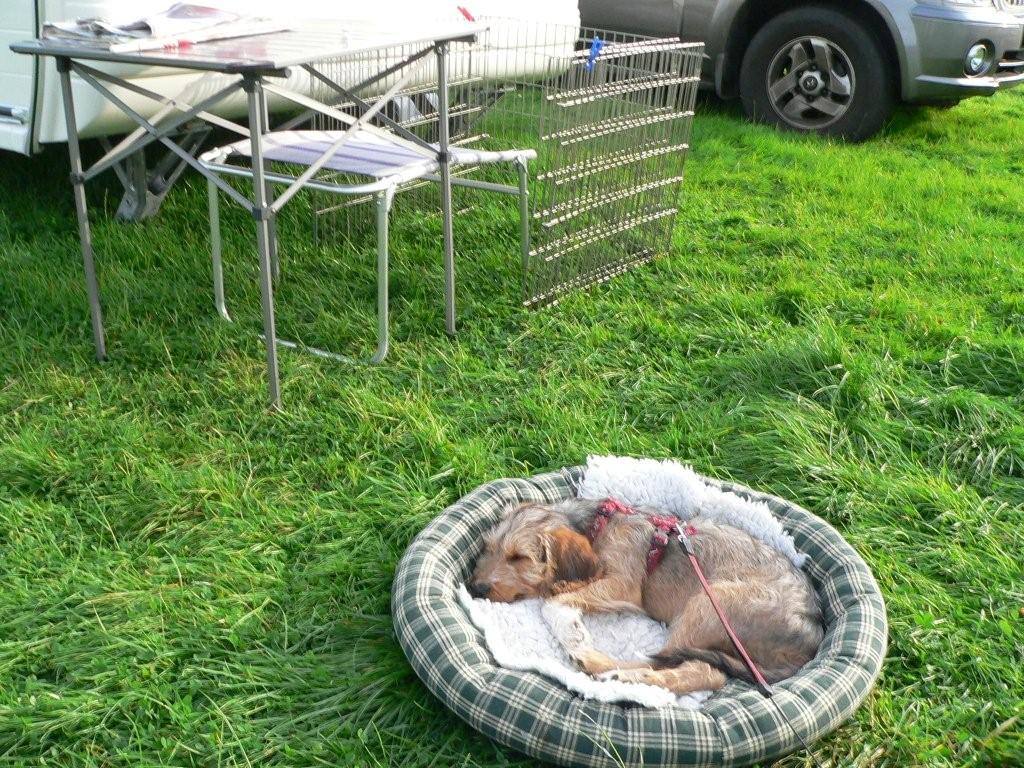 no fixed abode
Mum found two holes in a new box of cranberry juice that she had placed under the caravan step. She said that she didnít need DNA evidence as she knew they were my tooth size. Whoops!
A walk today, not too far and then tea this afternoon was a raw carrot chopped into large lumps. I ate it all so now I will be able to see in the dark.
Sunday 23rd August
I was right, yesterdayís activities meant we are going home today. We finished the packing and said thank you to our rally officers and waved goodbye to everyone else as we drove out of the field. I was in my cage in the car with food and water but I just settled down after a while and had a snooze.
We didnít stop on our journey today, so it was good to get out when we reached home and have a wee. Mum was really busy emptying the car and the caravan and reading the mail, so I inspected the garden and of course the pond. I wonder if the frogs have missed me.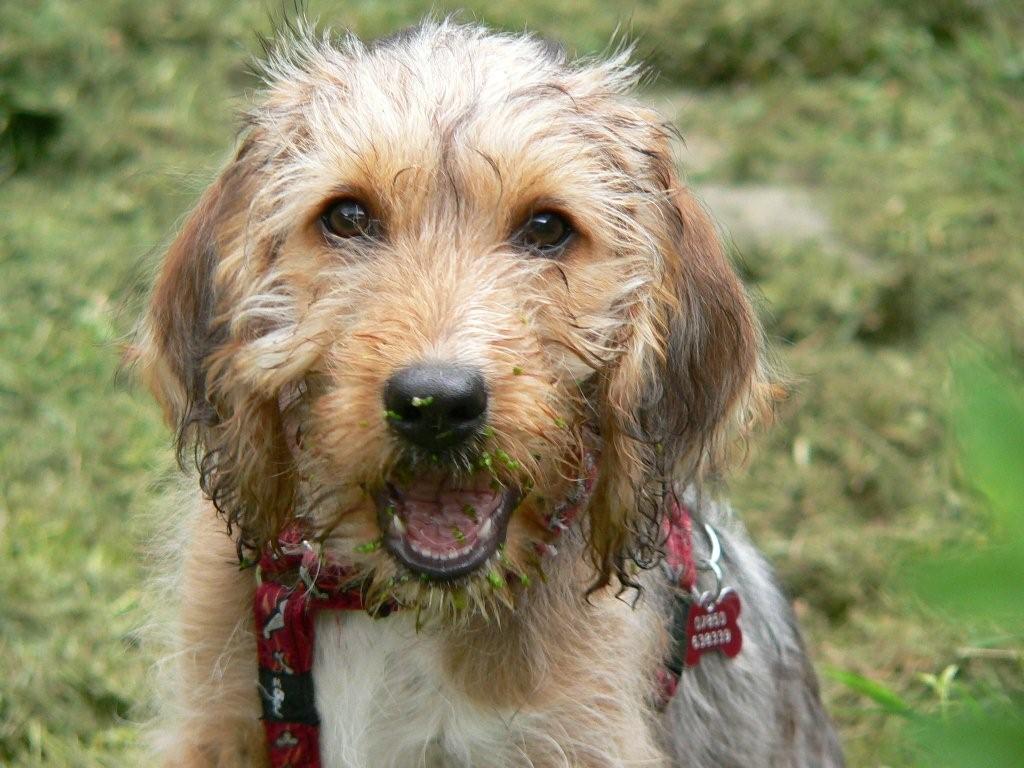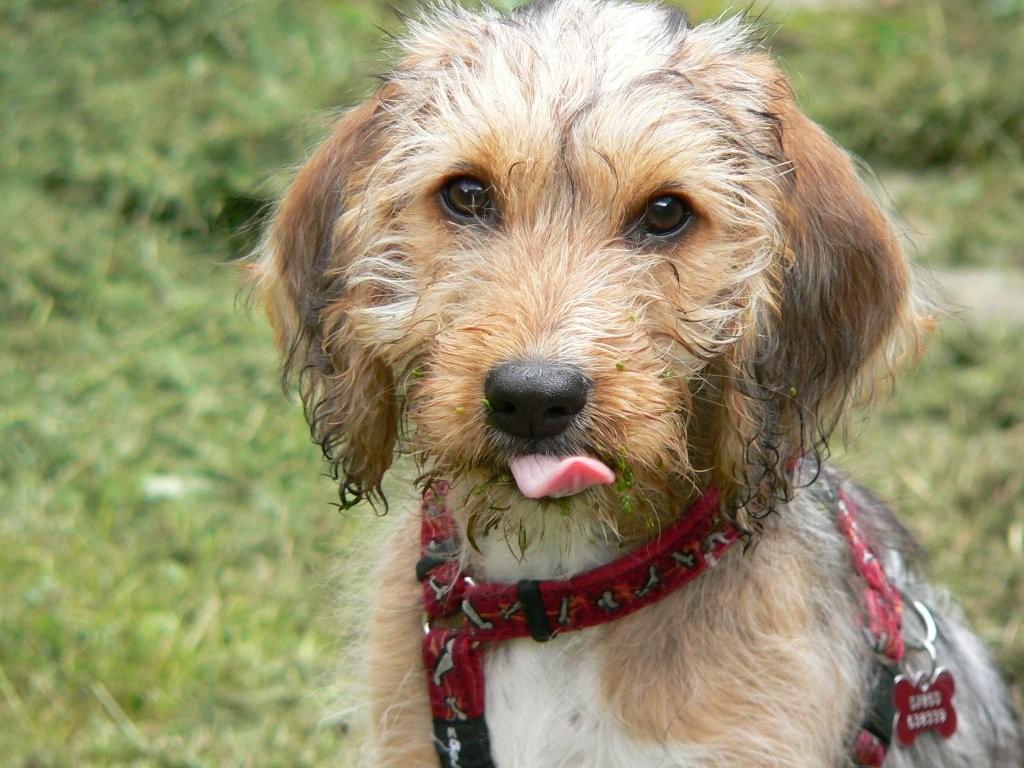 removing the evidence
Monday 24th August
Huge amounts of washing today. All day we were hanging it out and bringing it in, folding it up and putting it back in the caravan. The trouser legs are all pinned up on the line so it looks as it they are dancing. I am told this is for my benefit, but I canít see any benefit in it at all. It just means I have to jump further to reach them. Ahh, perhaps the jumping helps me to grow longer legs, because something is certainly making my legs grow.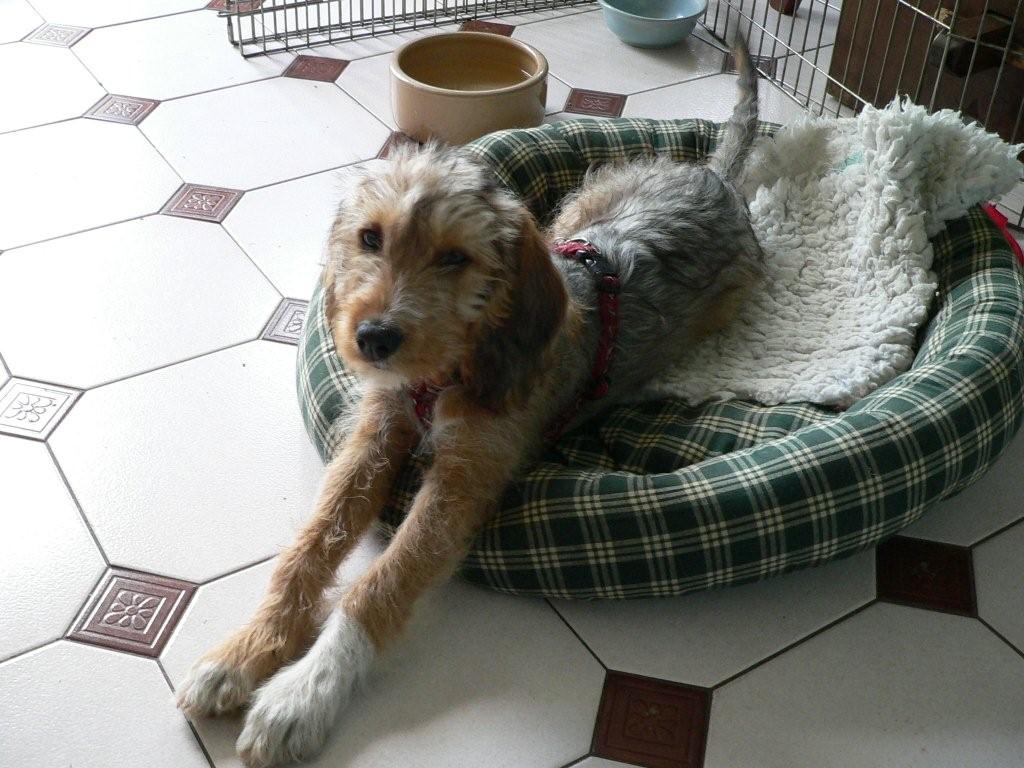 growing legs
Tuesday 25th August
I found a frog on the lawn today. It jumped behind some pots and I lost it. I looked behind the pots and right into the pond but the little perisher got clean away.
Wednesday 26th August
I donít know what was wrong with me last night but I could not sleep and I just wanted to be with mum. She came down at 1.15am and we went up the garden. I just wanted to play, so we went back to bed. I cried again and she came down at 2.15am and again at 4.30am. We got up at 6.00am. We had a good sleep curled up together on the settee in the afternoon and then we went for a walk to wear me out. In the evening it rained and there were lots of snails on the lawn. I thought mum would like some presents so I brought some of them in and put them in the dining room for her. It took me several trips and Iím not sure if she was as grateful as she should have been.
Thursday 27th August
This morning we went on the most fabulous walk. About two miles along the redways in total. We walked along the side of the stream on Bancroft and saw a heron. We met quite a few dogs, including Charlie an eight week old black Labrador. I thought that I was the new kid on the block but he was much smaller than me. It really was a good walk and I enjoyed it tremendously.
I had quite a good time today, the weather was nice, there was more washing on the line to jump and tug at and I found a few treasures in the garden to bring indoors to chew up. I also went to a lot of trouble to pick mum a daisy that was really difficult to reach. Why the best flowers grow on the far side of the pond I just donít know.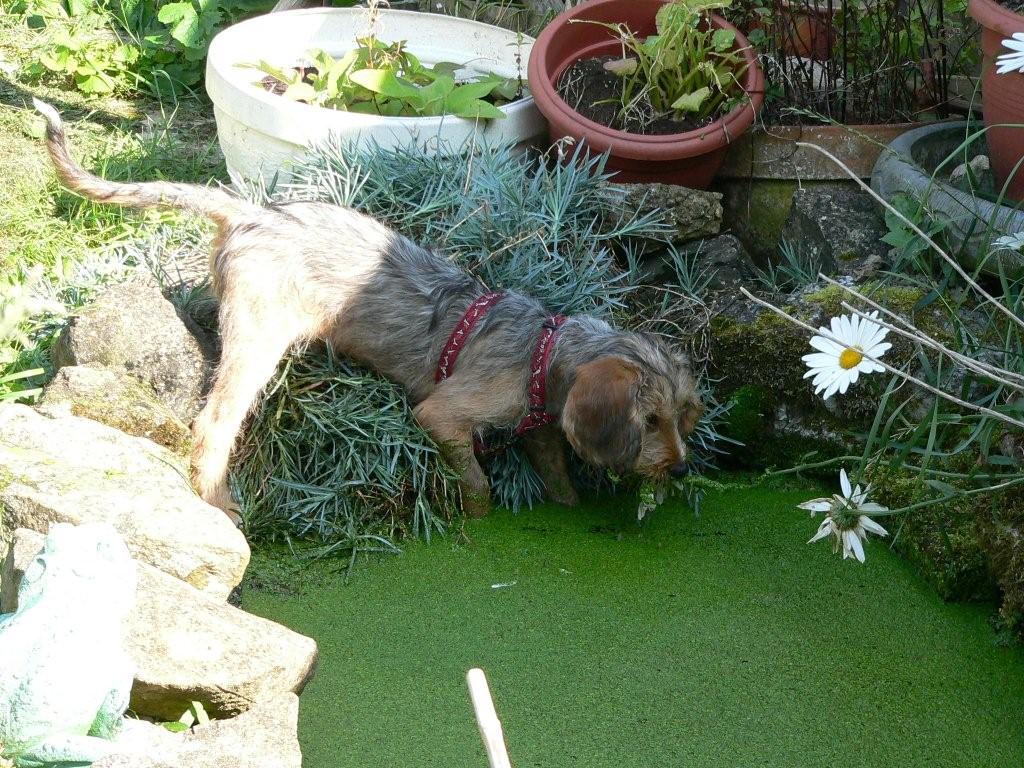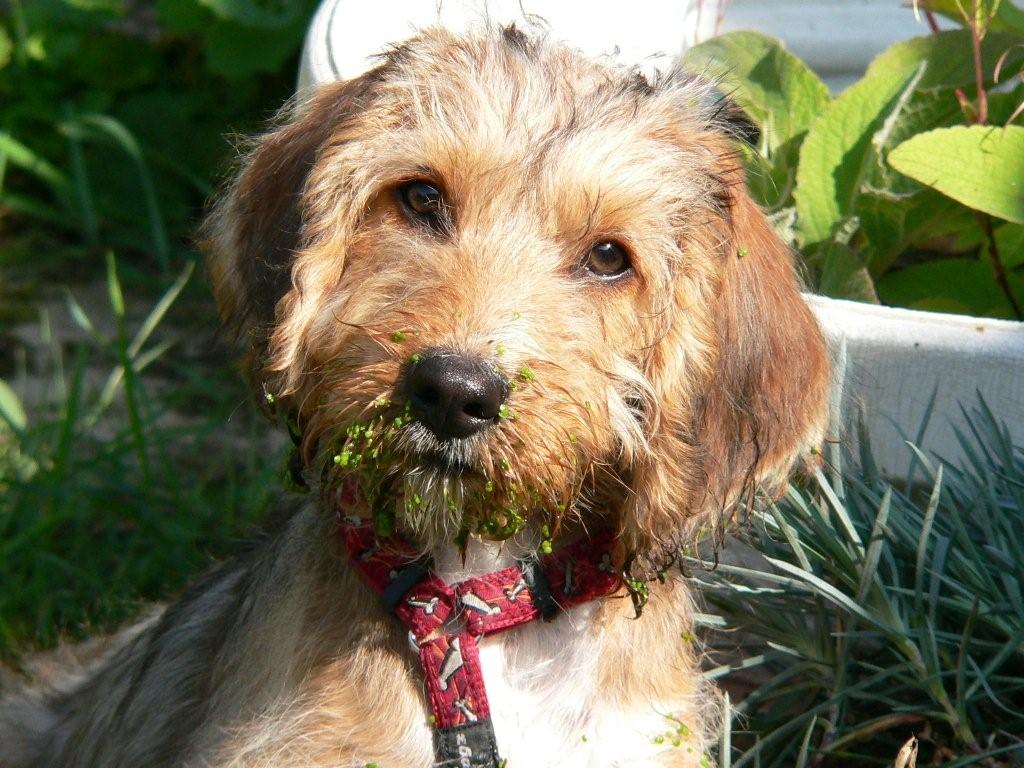 picking daisies and my new beard
When it was dark and really late we had a game of football on the lawn to wear me out before bedtime. I got so excited that I jumped in the pond again. Duckweed everywhere. I ran into the kitchen, mum ran to shut the dining room door but too late, Iím faster than she is now and I can skid round the corners on the wet tiles. I got all the way round through the dining room and the conservatory and back out into the garden and she couldnít catch me at all. I thought the speckled duckweed pattern on the carpets and the kitchen tiles added a certain Ďje ne sais quoií to the ambience of the house.
Friday 28th August 2009
I was awake and waiting for mum when she came down before 7.00am. She got the breakfast, but itís too early for me to eat. I went and sat by the front door and barked. The door was opened and I sat in the porch looking at my lead. Now, how big a clue is that! Too early, said mum, so we went upstairs to start the jobs. More beds to make as visitors arriving on Sunday, so I tried to help in my normal way. My godmother Gill is coming and she is bringing another friend Carole who understandably canít wait to meet me.
Mum relented just before eight and so we set off at a brisk pace on our walk. We met Duke the elderly Doberman from next door, but he doesnít walk as far as us so we left him behind. I was worried that mum may have forgotten yesterdayís fabulous route, so I went in front to make sure she got it right. I chased a few leaves that were blowing in the wind, watched some birds swooping over the river and stopped at some very good sniffs. We got fairly near home and she suddenly changed direction. That confused me, until we came round a corner and I stopped in amazement, I recognised where we were and had a jump about.
Straight in for breakfast, my Greek yoghurt with honey with a few crumbled shreddies went down well and then I curled up in the sun in the dining room for my nap.
Chicken breast again for lunch, Iíve had the same thing all this week, although today it was enhanced by a little stilton mash.
Today I learned to jump on the settee in the conservatory. It sort of happened by accident. I got so excited and jumped and there I was. A bit later on mum was looking for me and could not find me anywhere. She was sounding really worried, so I just moved my head and she spotted me. I had realised what a good spot this was and so I returned here for my nap. Itís a good view up the garden, I can see mum on her laptop and itís warm and out of the wind. It is also more comfortable than my own bed in the kitchen which happens to be full of toys, sticks and stones from the garden.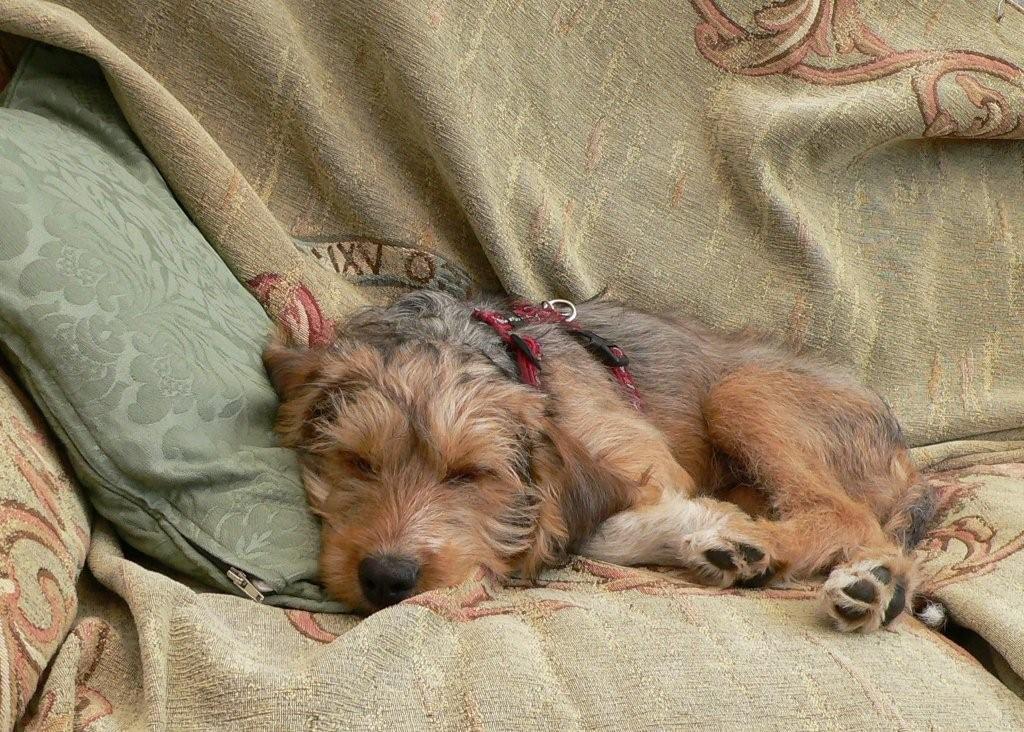 Mum cleaned the floors this morning and all traces of my adventures disappeared. Gone are the bits of flower pot, the shredded paper, the wicker work from the waste paper bin, the fringing off the lounge rug, even the dried duckweed has vanished. Oh well, nothing else for it Iíll have to start again. Perhaps a little hole digging and thenÖÖÖÖÖÖ.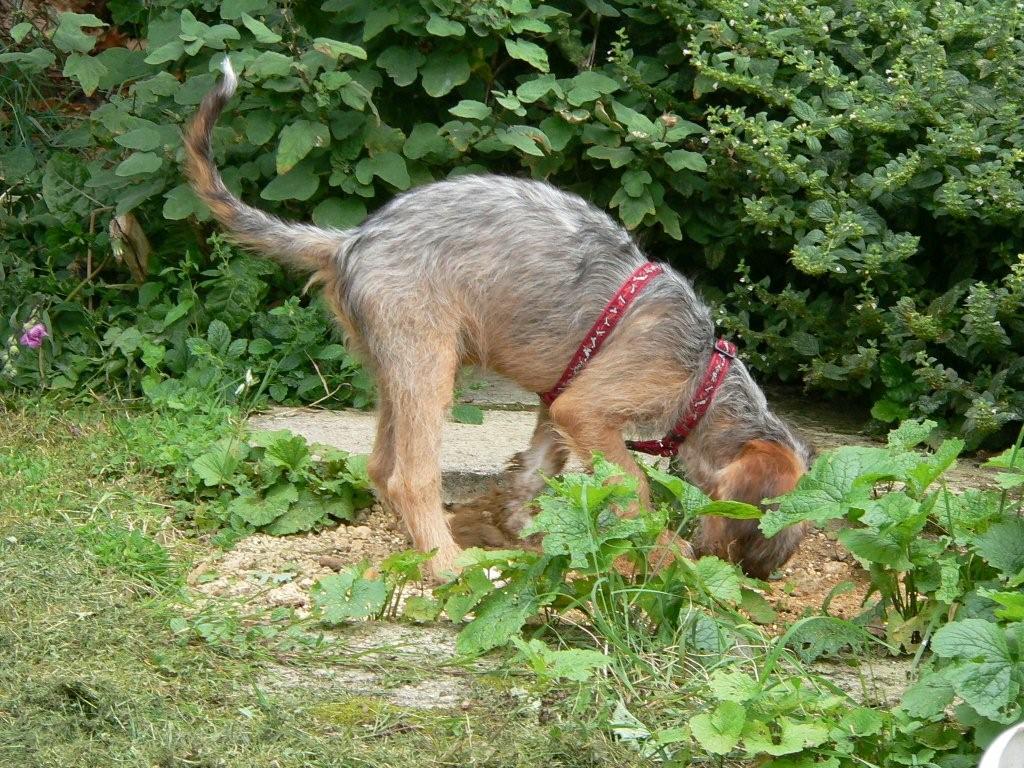 Friday evening we went out in the car, met Annette who was responsible for breeding me and then went on to Sharnbrook for dinner with friends. Annette told mum that I was walking too far and I was to be limited to 20 minutes. But I am so enjoying my walks. Itís all to do with the hips in later life, whatever that means. So I am to be cut down and I donít like the sound of it at all. Annette had a good look at me and pronounced herself pleased at my progress. She asked mum if she was pleased with me and mum said Ďyesí. I should jolly well think she is pleased with me, after all I help in the house and garden every day.
Saturday 29th
Helen picked me up early just after my walk, so mum could go and do a talk on WWII at Dunstable. I got in the car and sat on the front seat with my harness attached to the seat belt. I can see Helen and where I am going. I forgot to say goodbye to mum as I was interested in where we were going. We had a long car journey on the motorway, Helen lost her temper a couple of times, she said it was because we were in a traffic jam and she didn't know why, all I know is that I enjoyed it as the windows were down low and I could see everyone in their cars. Although I didn't like this big thing that was next to us and I barked and barked at it, Helen laughed at me and told me it was a Lorry, we'll I don't like lorries as they smell and are so big.
Finally we arrived at a new house, Helen told me that the people who owned it were family and that I would love them, they are called Jennie and Paul and have 2 older children called Danielle and Scott, I have to say that I approve of these people they made a huge fuss of me and played with me for hours. But all they kept saying to Helen was that they couldn't understand why she called me ASBO and not Drummer as I was so well behaved, of course I am...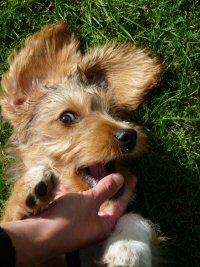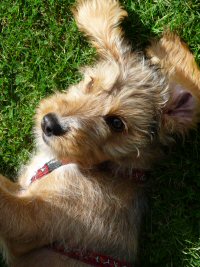 They kept laughing at my ears, I can't understand why, can you? I personally think that they add to my cuteness. After I had my lunchtime sleep I decided that I now knew these people fairly well and started to explore properly, OK I admit it I was slightly bored and Jennie had put her washing out and you all know how fascinated I am in washing lines, let's just say that after lunch I lived up to the name ASBO...
Late afternoon Helen announced that we had better go home, I wasn't ready to go yet but she started to pack the car up. Jennie and Paul had other ideas on this as well, and Jennie picked me up and ran upstairs with me and handed me to Danielle in her bedroom, her window was open and we listened to the conversation in the garden.
Helen came back and asked where I was, Paul announced that the RSPCA had flown in by helicopter and taken me away as apparently I wasn't being looked after properly, Danielle and I were laughing quietly upstairs. Helen wasn't having any of this though and told them that they couldn't kidnap me and that she wouldn't leave without me, Mum would have been so proud of her, I'm still not quite sure what kidnapped meant but it was all a good game. I could hear Helen coming up the stairs and shouting for me, Danielle finally handed me over but it took a while, they were really trying to convince Helen to leave me there and forget about me, I am so glad she didn't, I like Helen. By the time we arrived home I was so tired I could hardly keep awake, although it was nice to be home and have some peace and quiet.
Sunday 30th
Gill and Carole came early today and we all went off for a walk. It was a bit too far for me, so I got carried the last bit and mum said that I was eating too many doughnuts and weighed too much. I have never had a doughnut, but they sounded good so perhaps Iíll try one soon.
Gill gave me a new toy called Fido. He is a bit like Boris with arms and legs that you can grab, so heís pretty good. I watched a DVD on the TV today. It seemed to be all about me, and mum was in it too. I could hear mumís voice and see the caravan, it was all rather strange.
There were too many women chatting today so I got on the settee in the conservatory and had a good sleep.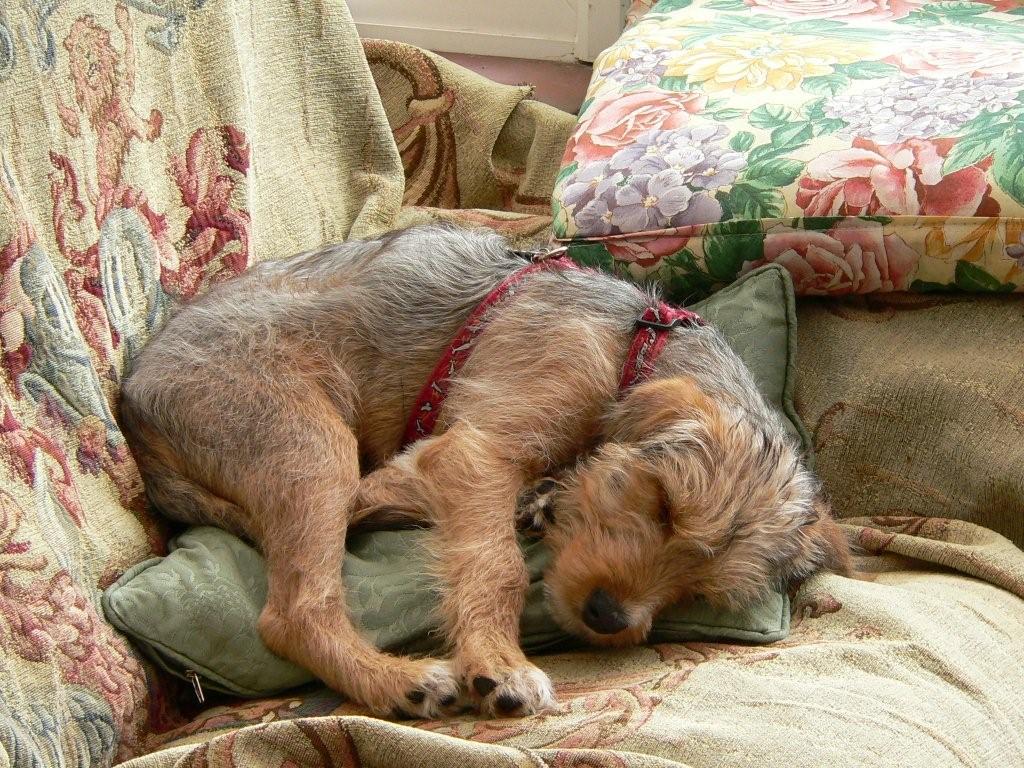 napping
Monday 31st
Our walk this morning was very quiet, we hardly met anyone at all. Mum said it was because itís a bank holiday today and the rest of the world was still in bed. Why would you want to be in bed on a wonderful day like today? The sun was shining, the birds were singing, itís just great to be out and about.
As it is a holiday today I thought perhaps nothing too strenuous, so a little light gardening with some good soil distributed on the lawn from some old potted plants. That should make the grass grow.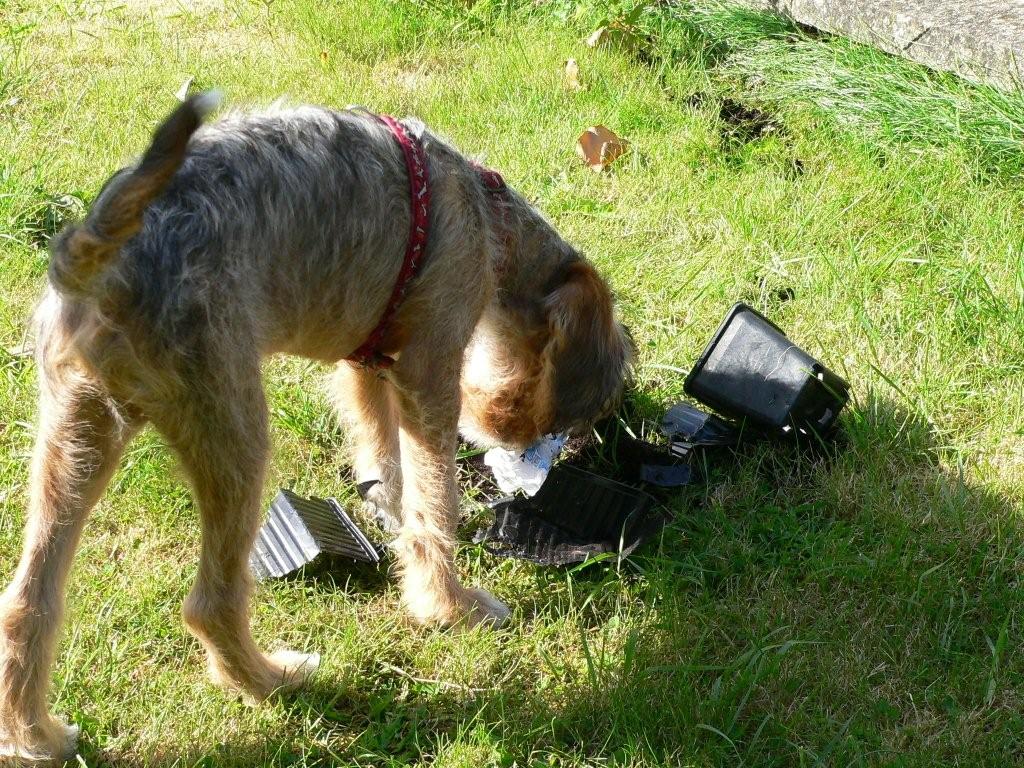 gardening
Tuesday 1st
We worked in the morning and then Helen picked me up so that mum could go and get me some nail clippers on her way to Dunstable for her Guide meeting.
I made a major breakthrough when I learned to get up and down the stairs this morning. I was rather pleased with myself, but mumís reaction was difficult to understand.
Helen and Ed took me for a ride in the car to see a new friend, Carla. She has 5 dogs that Ed calls the furry five, I was worried about meeting all of them. Carla put them all up the garden when we arrived and boy was I glad, the noise they mad and they are all big collies except one called Gucci, he is a poodle and I thought he was wonderful, so he was allowed in and I followed him about all the time.
Just as I was settling in, Carla appeared with a bag and asked Helen to hold me, next thing I knew Carla was clipping my nails, I screamed not because it hurt but because I didn't want it done. Carla told Helen that I had a lot of poodle in me as my new friend Gucci behaved just as badly, I knew then that Carla was not going to fall for this so I screamed and yelped even louder. It worked on Helen she thought I was in pain and was worried, Carla just picked me up and gave me to Ed to hold, and I thought he was my friend. Helen then noticed that I was only making a racket and misbehaving when Carla was no-where near me and when she was actually clipping my nails I was quiet. OK so I am a drama queen, I learnt that today as Helen kept calling me it, I think it has a certain ring to it that I approve of...
Wednesday 2nd
I got in a bit of bother tonight. It was almost bedtime and I went up the garden. The security light was on and mum said there was no excuse for falling in the pond, and as for the two feet of duckweed that I trailed through the kitchen, the dining room and the conservatory, I have to say it was entirely her fault that I jumped on the settee and left it up there. I would never have done that if she had not yelled at me, she really was rather a crosspatch tonight. I was still wet when I went to bed and it was not as comfortable as it usually is.
Thursday 3rd
This afternoon we went off in the car. I was on the front passenger seat attached to the seat belt. First stop was Pets at Home and in we went. What a great place. When mum paid I was given a treat and so I promptly got down on the floor to eat it. I did not move until I had finished every crumb and apparently that held up the queue. What did they expect me to do?
Then we went to Luton and it was a sunny day so we had the window open. When we stopped at some traffic lights the man in the car next to us spoke to me, but I did not have time to respond as we drove off. Shame, because he started by saying how cute I was. At Stopsley we put some things in the car and then we went to Barton to have dinner with Jennie and Paul. I had a game of football in the garden with Scott and several cuddles with Danielle and then we drove home in the dark, so I slept.
When I went out in the garden for my last wee there was a funny spiky thing called a hedgehog on the lawn. It ran away when it saw me, which was just as well because I may have got a spike stuck up my nose!
Friday 4th
Lots of activity today, I was quite worn out by lunch time. Mum and I went up and down stairs with piles of clothes and bedding and towels to wash and to put in the caravan. Then all the washing had to be hung out. The caravan fridge was packed, the car was packed, the grass was cut, phew! I helped with absolutely everything of course.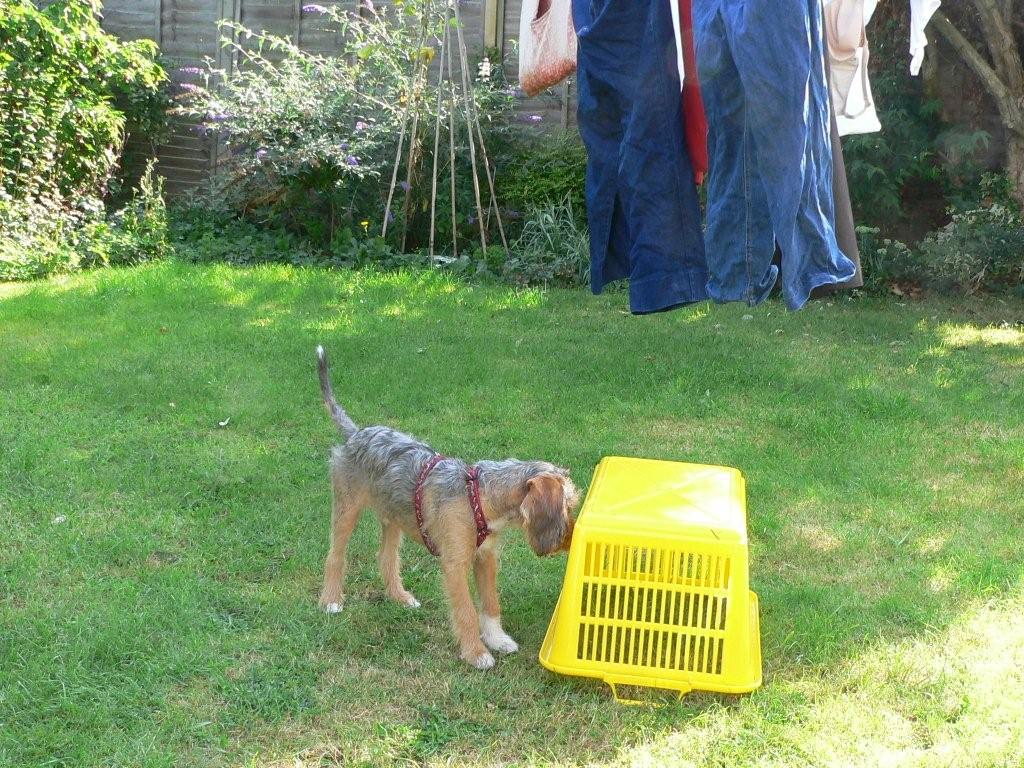 Whilst mum was on the phone this morning I did have time for a quick dip in the pond. I donít want the frogs to think that Iíve forgotten them so I look for them every day, sometimes several times. They are quite difficult to see, so you have to put your face right in the water, and just when you think they are not there, one pops up right under your nose.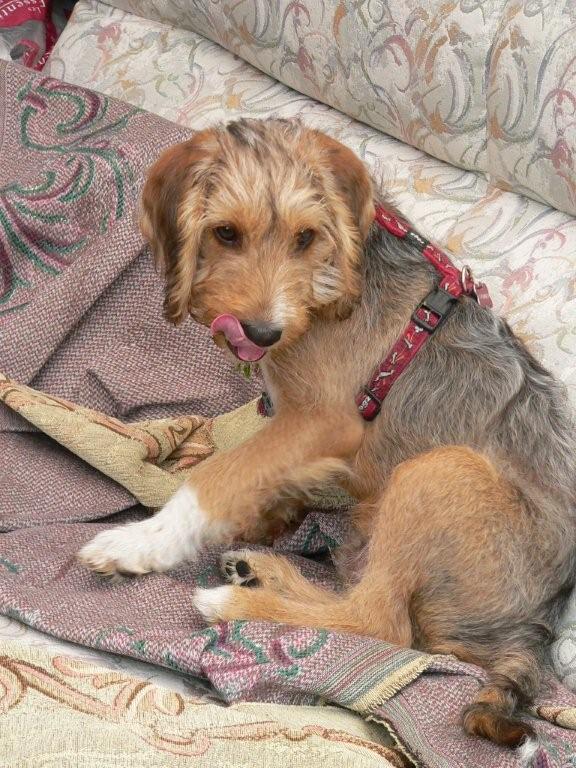 I overheard a conversation about chicken wire going round the pond. Now, is that to keep the frogs in, or me out?
Saturday 5th
On our walk this morning I met several new dogs and people because on Saturdays people walk at different times. The twenty minute walk round the block, I now stretch to take forty minutes by stopping for quite a few wees and a lot of sniffing. Sometimes I stop for a dance around, often in the middle of the road. We do a sit and cross routine but it is a bit boring so as we start to cross I have a dance round the lead.
Home for breakfast, wafer thin ham this morning and then a nap on the conservatory settee. The sun is out and it is just the right temperature in here today.
For goodness sake not more cleaning, just when I want a bit of peace and quiet, the cleaner starts.
Gill arrived today and even more stuff was put in the caravan and car. Looks promising!