5 Months Old
Week 21 Thursday 8th October
I chased a squirrel along the path this morning and he disappeared up a tree. I tried to follow him but I just could not climb like he did. I sat and looked at him high up in the tree and wondered how he could do something that I cannot do when he is smaller than I am. Then I chased three blackbirds and they flew away. They are a lot smaller than I am, so am I too big now to go up trees and learn to fly, have I missed the opportunity when I was smaller to do these things, how does life work?
Itís a cleaning day today and the only fun part was getting a ride on the hall carpet when mum pulled it along to wash the floor underneath.
Oh yes, I forgot, we did have a game when she was trying to put my cover back on the conservatory settee. Every time she tried to put it on I jumped on the settee and pretended I was on a trampoline in a tent. After a few times she said I was a nightmare dog and she gave up.
A bit later on I was out in the garden having a dig when I spotted her putting the cover on without my help. I rushed in and up on the settee just scraping underneath the cover and spraying bits of soil all over the place.
I do not understand why we clean, because within a few hours I can make it look the same as it did before we started, in fact sometimes it only takes me minutes to put it back the way it was.
I particularly do not understand why we clean when we are going away, and I hear we are going caravanning in the Cotswolds on Saturday.
I heard mum booking a site on a fruit farm near Evesham, and there was some talk about walking into town and how much I would enjoy it there. Itís nice to think that my needs are a priority when choosing where we will stay, although I donít like apples and I think that is what they grow.
I was left on my own this afternoon while mum went shopping and when howling did not make her come back I decided that I might as well have a sleep. I had the radio on because I like music and I didnít hear her come home. She had almost finished unloading the car before I woke up, but I was there in time to explore the shopping bags before she could get everything in the fridge.
Friday 9th October
I went to the river this morning and there were six ducks making a quacking noise, but as I got closer to see what they were doing they flew right over my head. Wow! I watched in amazement. They were so big. But I think I now know why I have a problem flying. They do not fly with their ears flapping as I have been trying to do, they use their front legs which are a different shape to mine and called wings. There is an explanation for everything, you just have to be patient and do the research.
When we got nearly home, the squirrel that we saw yesterday was making a noise up in his tree. Mum said he should be thinking of making a nut store for the winter. He comes into our garden and takes the top off the bird nuts and helps himself, so he should not be hungry. One day he made a mistake and thinking that the duckweed was grass he dropped straight in the pond.
Now, I could use that excuse next time I fancy a dip in the pond.
Mum and I went shopping this morning and I got a new rug to wear for the winter. We went to the horse shop and the lady sales assistant measured me and fitted me with a winter coat. She said the rug was padded and breathable and goes in the washing machine. I am good at taking things out of the washing machine but I expect that if I tried I could put things in the washing machine.
Saturday 10th October
Chased a squirrel, Gill arrived and then off. Today I was in the back in my cage on the 67 mile journey to Evesham. Now Iím tall enough to see out of the windows when Iím sitting, but thereís not much to see when the caravan is on the back, so I had a sleep.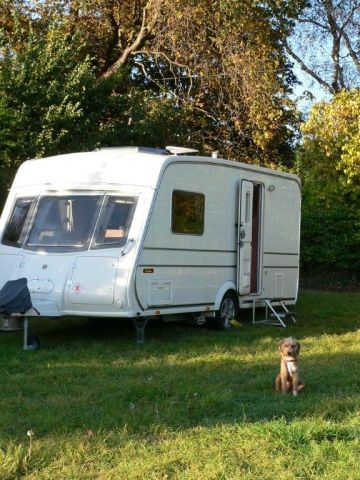 Caravan at Evesham
Sunday 11th October
A bit of a miserable day so we took the car into Evesham. A nice town, lots of alleyways and old houses. Yesterday I broke my lead and so today we bought a new lead and a new harness as I am nearly grown out of my old one. Then we walked around the abbey, looked at the river and when it really rained we went home. In the afternoon the sun came out so we had a walk round the farm. Wonderful apples if you like that sort of thing, lots of different colours and varieties, some for cooking, some for eating and some for keeping. Mrs Morris the site owner said we could help ourselves and try the different types, what a pity that I donít like them. She asked about my breeding and when mum told her I was a Boodle she said that I might be confused about what I am; whether to behave as a poodle or a hound. I have to say that I am not a bit confused, I just have a good time every single day.
As you can see I had a fitting for my new pyjamas today.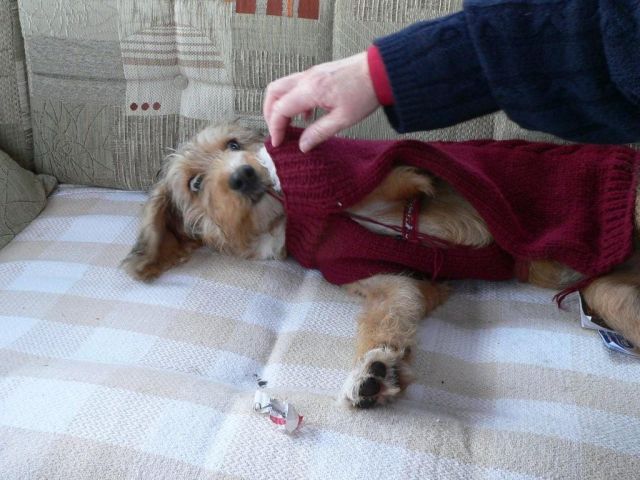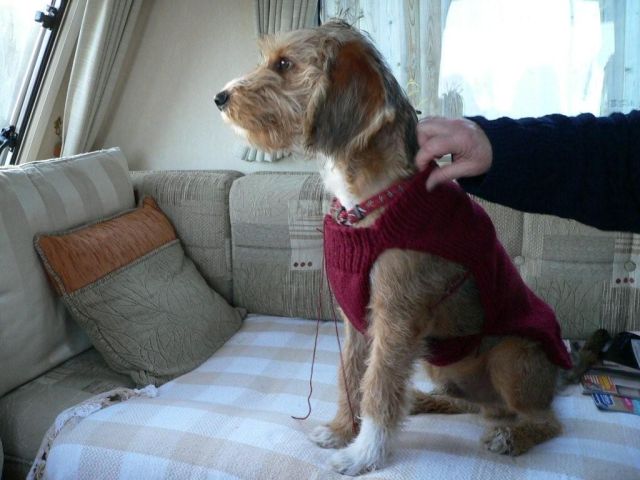 Pyjama fitting
Monday 12th October
It was a beautiful moonlit night and the grass was shining, a touch of frost, mum said when we were out at 5.15am, and then it was great to snuggle up to mum in bed. Later, on our morning walk through the orchard we saw a man picking apples. I barked at him because he had a great big bag strapped on his chest that he placed the apples in. Under the bag there is a piece of material that he unhooks when the bag is full and the apples all gently drop into the wooden crate and donít get bruised.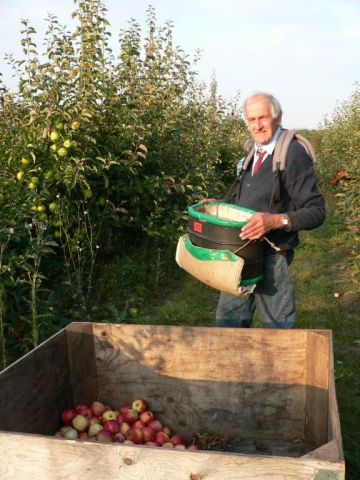 Apple picking
We bought a few things at the farm shop today and then we went to Stratford upon Avon to look at a site we are rallying at next year. It looked great, plenty of walks, and a nice big thatched barn for meetings.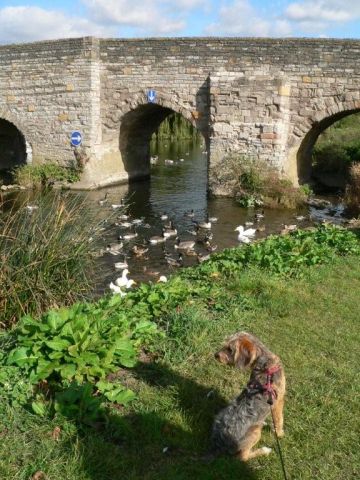 Then off for a walk around Bidford on Avon and there we had an ice-cream by the river. I have never seen so many ducks, they were queuing up waiting for people to feed them, and no, I did not give them any of my ice cream because it was just too good to share.
Bidford on Avon
Tuesday 13th October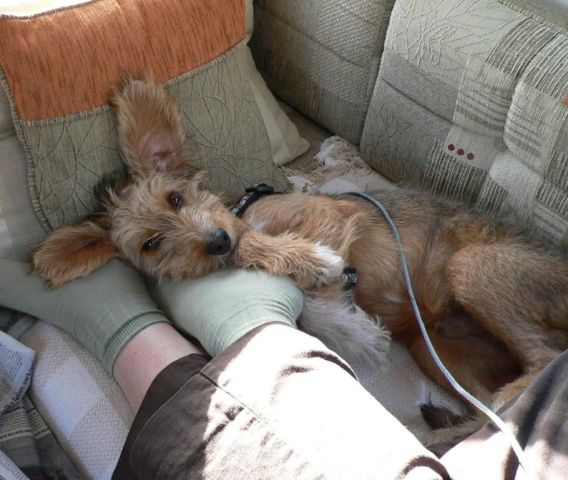 I was kept awake all evening and mumís cunning plan worked as I did not wake up until quarter past seven this morning. It was cold and really misty this morning when we walked through the orchard.
Godmotherís idea of a joke calling me Big Ears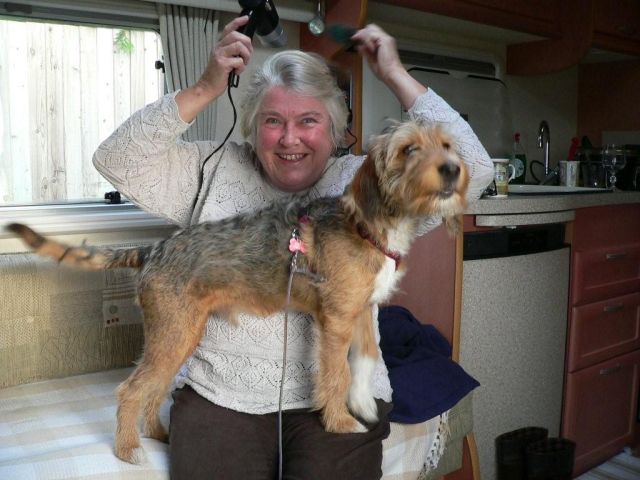 This is me queuing for a go at the hairdryer
Off to the market at Moreton in the Marsh this morning. I had so many pats and enquiries as to my breed that it took us all morning to get round. Then a route home through the beautiful villages with their yellow Cotswold stone cottages with thatched roofs, hedges clipped to look like birds and animals and the trees all different autumnal colours. We were home for a late lunch and then a nap, and then I had another fitting of the pyjamas before they were sewn up and finished. Although I poo-pooed them to start with, I think that I might be quite glad of them if it gets any colder at night, but Iím not owning up to that.
New harness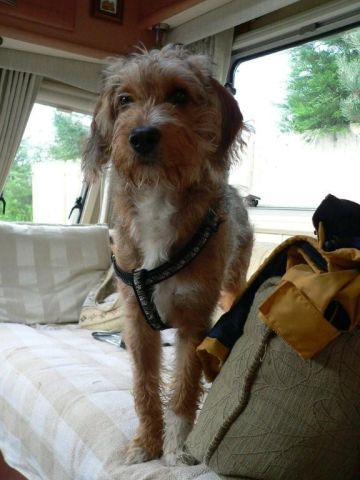 Wednesday 14th October
As I was born on 14th May, today I am officially 5 months old.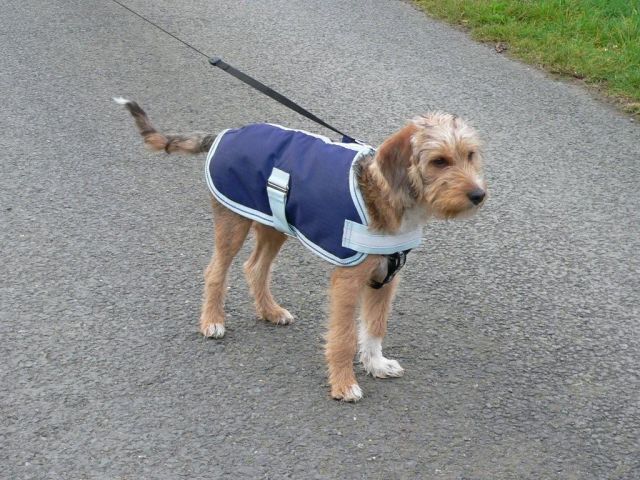 I wore my new rug on my special day today and it was great. What do you think? It is padded and plenty big enough, so I expect by the time Iíve finished growing it will fit perfectly.
Me in my new winter rug
We went to Tewkesbury today and walked round the town. I sat with Gill in the park and mum went off to look in the Abbey and bought a Tudor Rose to hang on the wall at home. Itís a replica of one at Cartmel, another Augustinian Priory like Dunstable. Just looked like a piece of wood to me that you could probably enjoy chewing given the chance.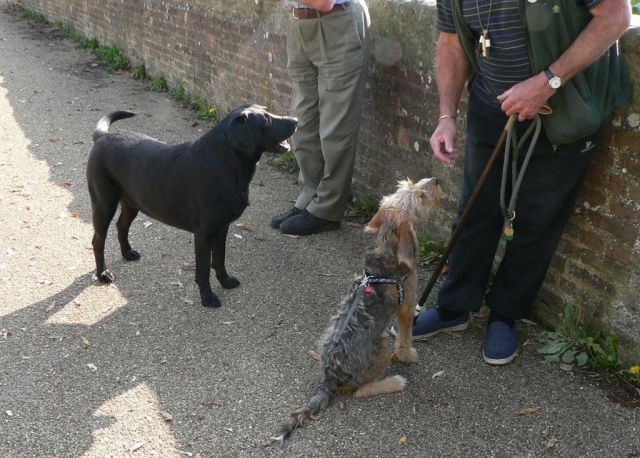 We came home via Pershore and stopped for a walk by the river. I made friends with Bramble and her master. This was a good move as he had a pocket full of biscuits.
Bramble
We came across the apple pickers in the orchard again today on our afternoon walk. They were filling the big wooden boxes and then they used the tractor to move them.
I could pretend that I picked all these but you know I didnít because I donít like them.
Apple picking tractor