My first week in my new home was pretty good, I learned a lot, I went to visit Helen and Ed, but things really improved when I went caravanning.
I did not like the journey there because I could not see anything in the back of the car, and even when put on my godmotherís lap for the last twenty miles I was still not too happy about it, but it was all worthwhile once I understood what was going on.
We had a nice spot on the edge of the river Thames just outside Oxford and the sun was shining when we arrived. Once the back of the car was up I was happy to watch everyone working away siting the caravan, putting up the awning and getting water. Then I was given a spot behind the caravan in the shade in my playpen and that was OK too.
Bedtime was fine. I had my playpen in the caravan with my bed and my incontinence pad and that worked well. I went to bed about 10.30pm every night and between 5 and 6am I barked because I wanted a poo. Mum got out of bed and let me out and as soon as I had done a poo I could get into bed with mum for another couple of hours or so. I did this every morning and decided life was really great.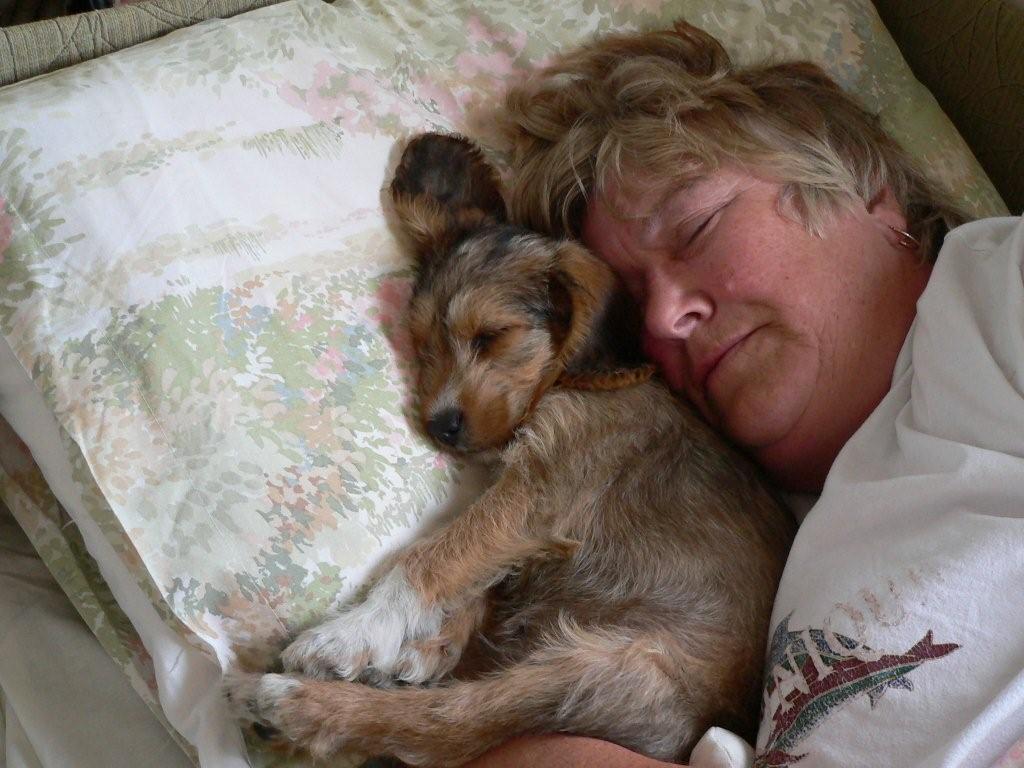 The first morning we were there my mum sat up in bed and spotted a kestrel nesting right near our caravan. ĎThatís ití, she said, Ďno more playpen outside for you until you are a bit biggerí. So my playpen was in the awning after that. That day was really busy. Lots of other caravans arrived and I got to say hello to a whole pile of new friends. Mum carried me up and down the huge field putting everyone on a peg as they drove in and making sure they all had a view of the river.
They all came to tea in the afternoon and I got a cuddle from about 30 people. I thought this caravan business is alright.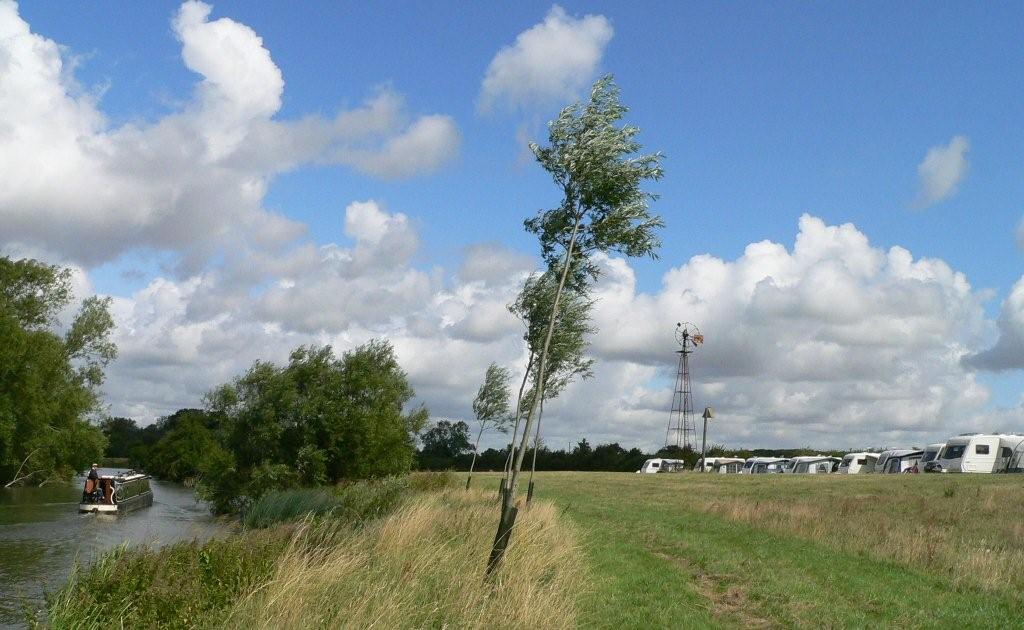 There were a few other dogs on the field, but none of them wanted to know me to start with. The Lhasa Apso called Freddie is very disdainful and just passed me by, and as time went on, he ran away from me, so I donít think that Iíll bother with him when I am bigger than he is.
One day, mum went off shopping and my playpen was moved to another caravan awning. They had 2 furry things on leads called cats.
We went to the pub a couple of times and I sat on mumís lap and everyone came and said hello to me, so that seemed like a good place to go.
Our neighbours had a spaniel called Finlay. His was a sad story, because his original parents got divorced and now he has got a new home. He is happy now, because he too is a caravanner, but he is allowed to go on long walks because he is a lot bigger than me. He was quite friendly after a while and I had several conversations with him. I think we will be good friends.
My mum had to go to Pets at Home at Abingdon on several occasions. My godmother bought me a very smart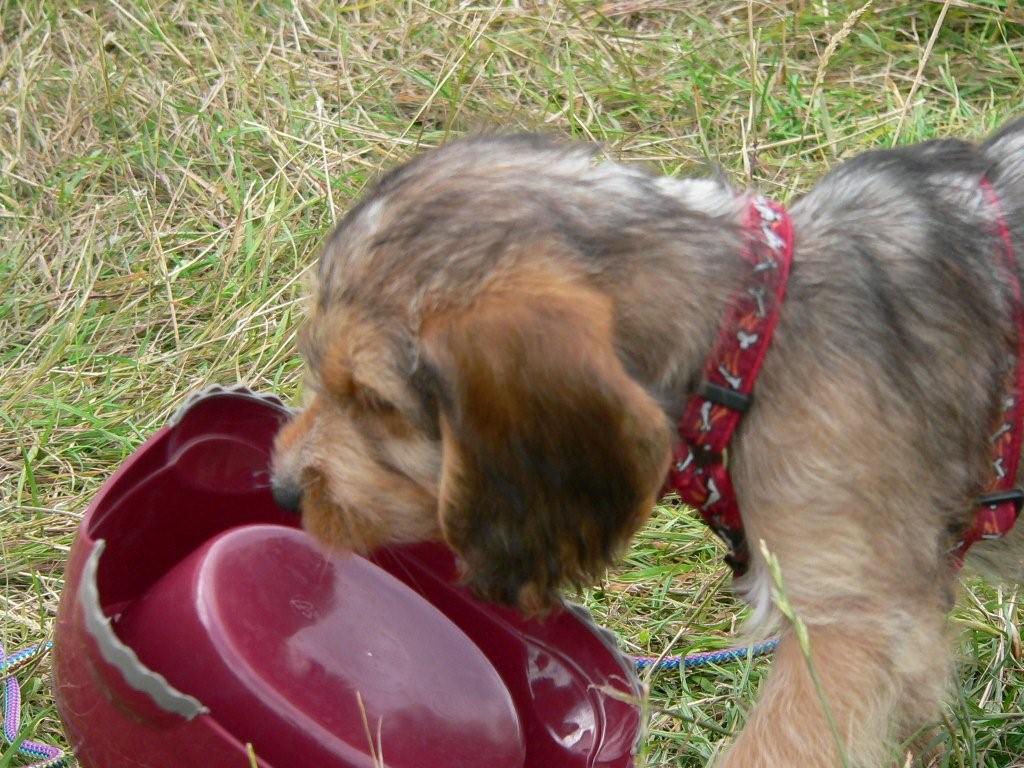 red harness with bones on, and I have a special cord that allows me a bit of freedom so I can get in and out of the caravan all day. It only took me 2 days to find out how to get up and down the double step.
I then found a new game called foot in the water bowl. We have to have lightweight things in the caravan so mum took me some plastic bowls. They flip up in the air if you hit them just right and the water goes everywhere. Pets at Home were visited again and 2 new non-tip bowls were purchased. It took me a while, but eventually I found that if you use 2 feet at the same time and really drop on the edge just in the right place, they also tip up beautifully.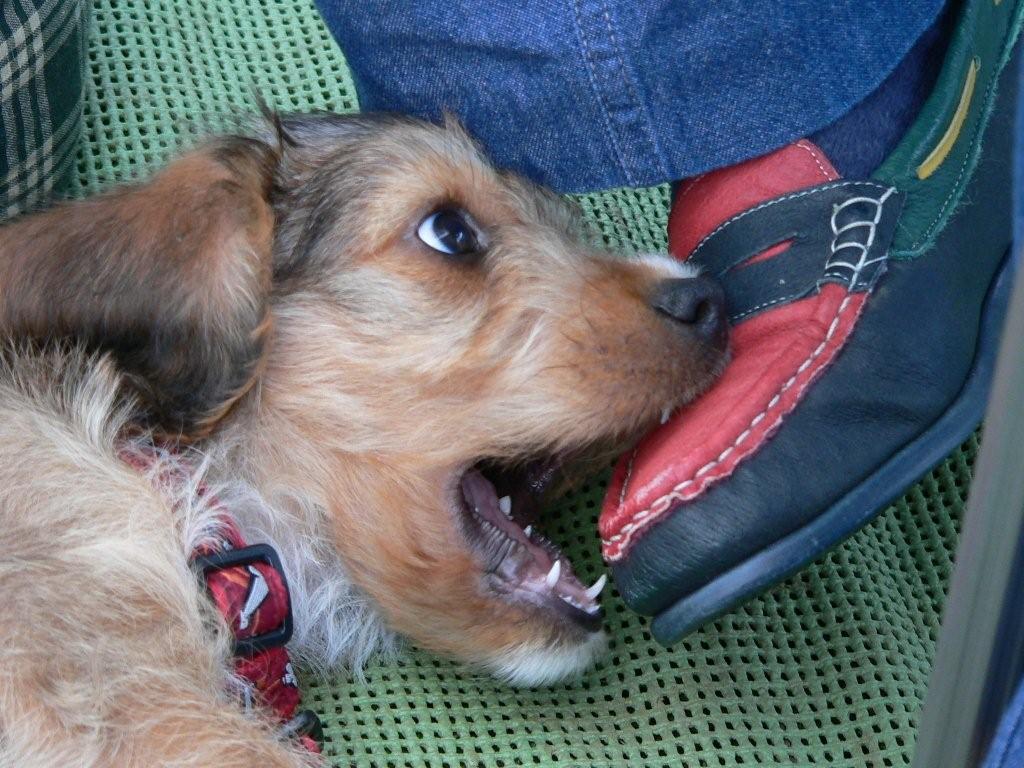 You can see my teeth here, sometimes I hurt myself when I chase my tail or bite my ears. It doesnít hurt when I bite other people so I do a lot of that. I know, I know, you also shout that I hurt you when I bite, but you must understand that I need to get rid of these first teeth.
Terry, one of our Welton ralliers gave me a new nickname Ė Asbo, and everyone laughed. Ed says I donít deserve that name because I am always very well behaved when I go to see them. My godmother says I am a cross between a meerkat, a dormouse and a rabbit, with ears and attitude. Just because when I want something I bark or shout does not mean that I have attitude, it just means people do not respond to my needs fast enough.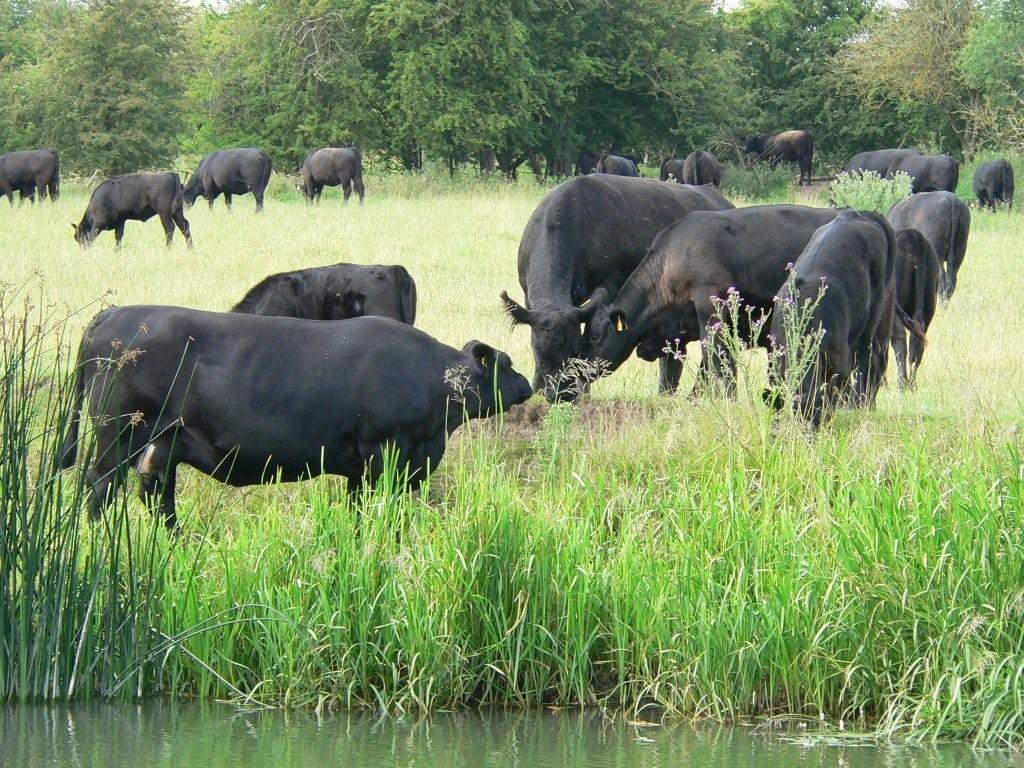 It took me a while to get my long distance focus just right, and then I realised that across the river were some very large black dogs that mum called cows. I sat and watched them for hours, they were huge and made a strange noise. I also saw some sheep, some geese and ducks and lots of people going by on boats who waved to us.
Sometimes I went in the car to fetch the newspapers from the village shop. I shouted all the way there and all the way back. Mum turned the cage round so that I can see her now when she is driving, but I still shout, after all I donít want her to forget that I am there.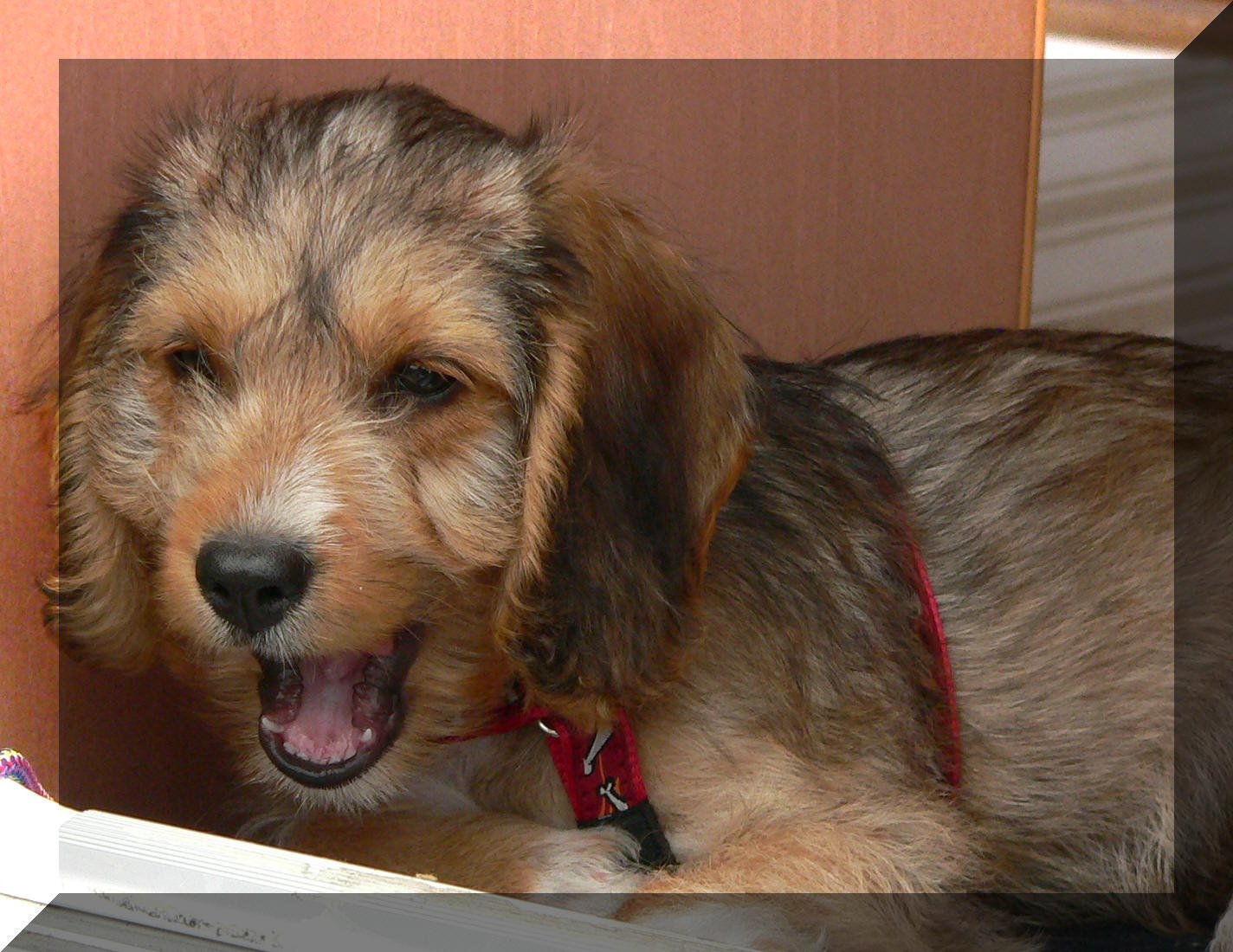 This is me, lying in my caravan doorway. I find that I can see everyone and everything from this vantage point.
Mum says I have grown 2 inches higher and 2 inches longer. I am just pleased that I can reach a few more things. I am practising getting up on the settees, but cannot quite manage it yet. I think I might be able to manage the caravan bunks in a couple of weeks time. I am now 11 inches from the floor to the top of my back, so I have grown my neck and head height in four weeks, so mum is wrong because that is more than two inches, more like four or five inches.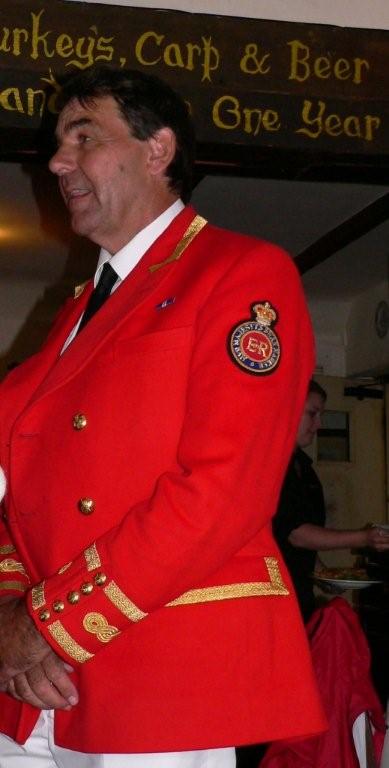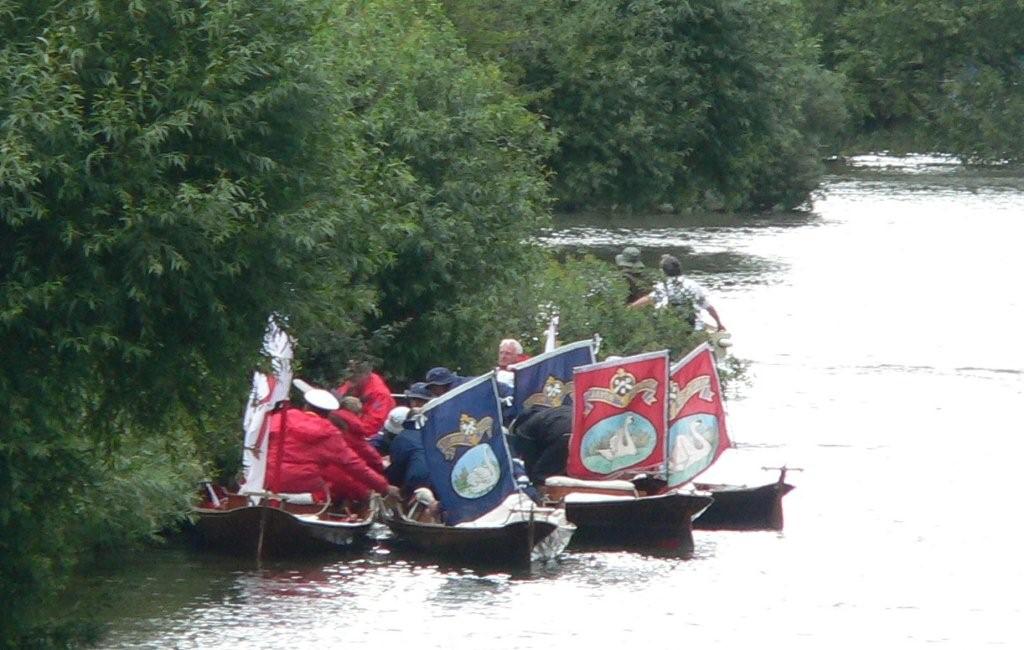 One day mum and Gill went off without me and I was left with the snooty Lhasa Apso. They went to see the Swan Upping. They said it was really interesting, so I have included pictures, but I missed out on a pub lunch that day.
After 2 weeks we packed up and came home. I didnít recognise the house at first, but after a little while in the garden I remembered playing in the jungle at the bottom and it was alright.
The next day we went to see the vet again. I now weigh 3.6kg, although we all thought the scales were probably wrong, and then I had my second jab. Mum says my pain threshold is non-existent because I am a boy, but it really hurt and I felt awful all day and so I cried all day. It has taken me several days to get over that experience. I was off my food and my sleep pattern has gone to pot.
My bed is in the kitchen now and I really think that I should be in mumís room, so I shout about it every night. I really do not think that I should be left on my own at all, ever. I need to see people and they need to be taking notice of me.
Yesterday mum went out to get me more supplies. When she came back I went up the garden while she packed the shopping away. Several times she has said to me Ďdo not go near the pondí, so while she was not looking I thought I would explore. It looked like grass on the top, but apparently it is called duckweed and it really gets everywhere, in your fur and up your nose. The pond is quite shallow so I didnít have a problem getting out, but then mum laughed and made me have a bath and I wasnít too keen on that.
This morning mum cleaned the caravan and the car and I was in my playpen on the front drive. I thought that I should help so I shouted until I was put on my rope and could explore. I got wet again when a slight miscalculation on my part put me under the hosepipe. I did however get 7 visitors whilst on the front drive. All of the neighbours came to talk to me and so did the postman. They seemed to think that the noise I was making was because I was being strangled, but they donít realise what it is like to be stuck in a playpen and ignored.
I was 11 weeks old yesterday and I can start going out soon. I am certain that there is a big, wide world out there to explore.
In 9 days time I am off to Derbyshire in the caravan for another 2 weeks. I tried to talk to Finlay, my caravanning spaniel friend, on Skype yesterday but he is not as interested in television and computers as I am and he just would not look at the webcam. I did so enjoy the Welsh Show the other day on TV, I watched the sheep dogs herding ducks.
I have had a really exhausting morning so am due a long nap now.
Drummer July 31st 2009