Week 87
January 2011 - Saturday 8th
Another Christmas Day, this time at Helen and Edís house with lots more parcels and huge amounts of yummy food.
January 12th Bryanís all day because mum went out.
January 18th Christine came for a couple of days and I had a day with Helen while they both went off to Dunstable and had tea at Woburn.
January 22nd Risotto and fish pie for supper at Helen and Edís tonight. Mum went to a Burns supper with the caravan club.
January 28th On my own for 2 hours then Bryan rescued me for the rest of the day.
January 30th Poppy came for the weekend, she brought Edís parents with her and they stayed too. I liked Poppy, and I think she liked me too.
Poppy and me and them Ed feeding me an icecream.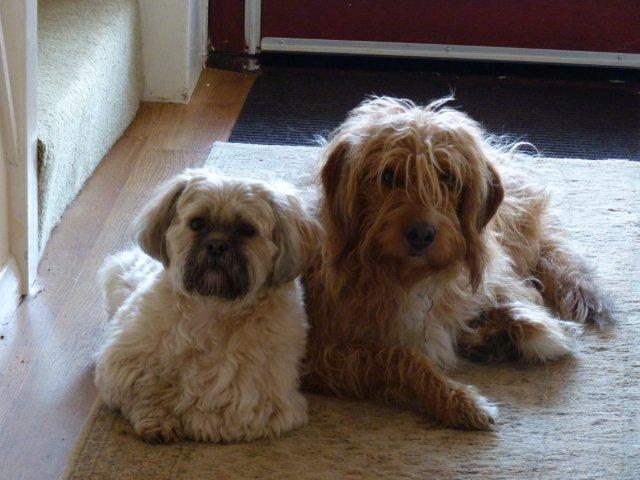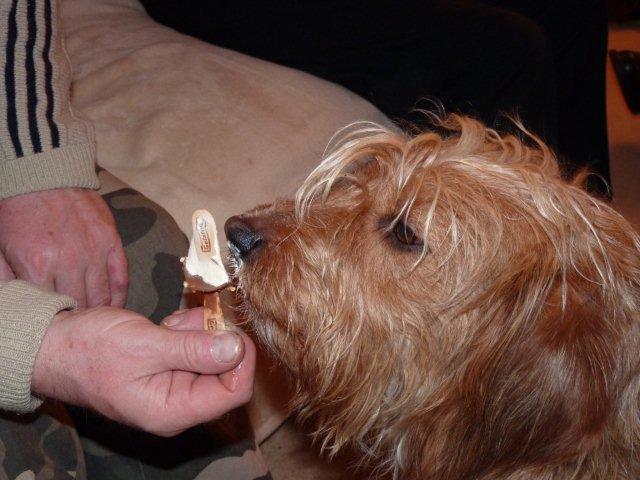 We heard from my sister Tetley this month and there are some family album photos.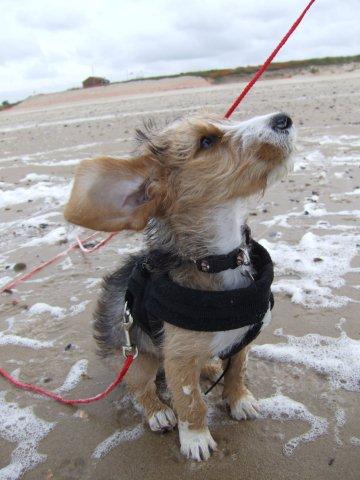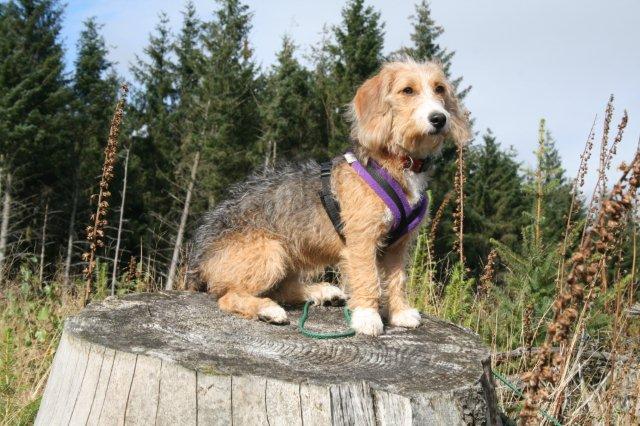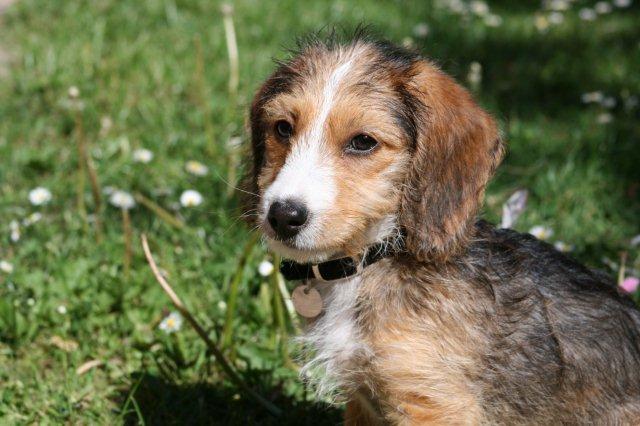 She's a very pretty dog, you can see the family resemblance.
Week 91
3rd February 2011 week 91
Winter is still here. Wet paws, mud everywhere, where is the sun? Not much to report this month, usual things happened. Had lunch with Gill, but too cold to watch the ducks from the balcony.
Went to the vet for injections and he called me a big girls blouse. Mum laughed, but I didnít understand what was so funny. It hurts, so I scream.
Mum decided that we should both go swimming and so once a week I go to the hydrapool and swim with Robert. I started doing a few minutes and having a rest, but when Robert realised how fit I am he got me to swim a bit longer in between rests. I am working up to 20 minutes in the pool and not even puffing. Itís really good and I enjoy going.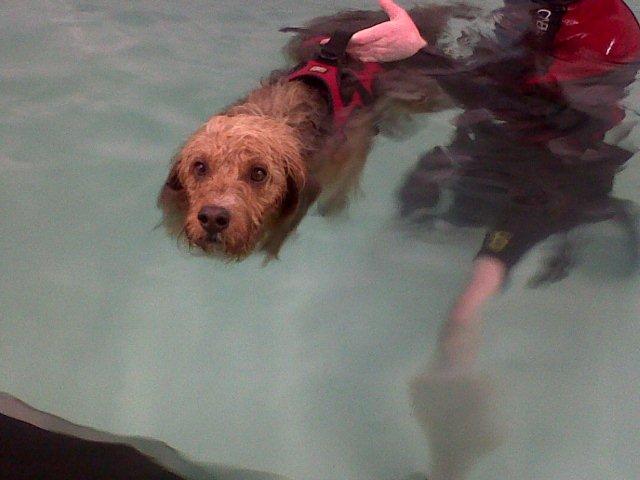 Iím not sure how fit mum is as I am not allowed to go and watch her swim, which is a bit unfair as she watches me all the time.
Week 95
3rd March week 95
By the middle of March the weather had started to improve and then Raine, Edís sister came to stay. She lives in San Francisco but had gone to Italy to look at some marble for work. She also had a work colleague with her, Gabor, who is a sculptor.
I have never met a sculptor before so I was quite interested in him. We took them to Stowe gardens one day and that was a really good day. Raine and Gabor took hundreds of photos of every statue and temple. Helen made us a picnic lunch which was good, because I didnít have bread, just meat. I donít understand why humans eat things like bread when meat is so much tastier, just give me more meat.
One evening mum cooked us all a roast dinner. There were six including me, but I do not get to sit at the dining room table. When it was time to dish up, Helen asked Gabor if he could carve. What a stupid question, he is a sculptor, of course he can carve!
He made a pretty good job of carving the meat and we all got a share. Ed and Raine always fight over the Yorkshire puddings, so I was a bit concerned that I might not get one tonight, but thank goodness there were plenty to go round and one ended up in my bowl.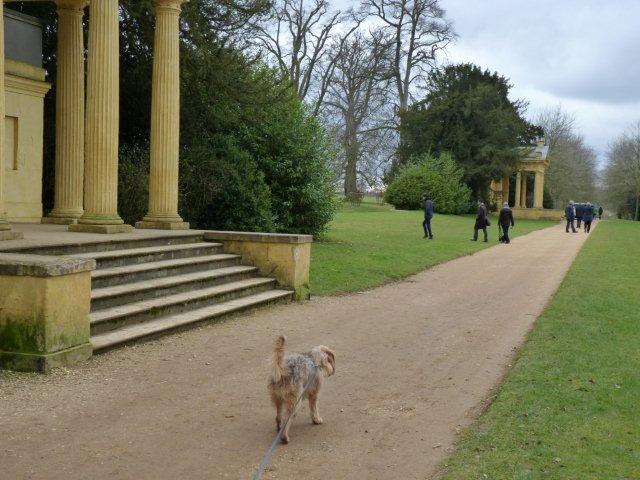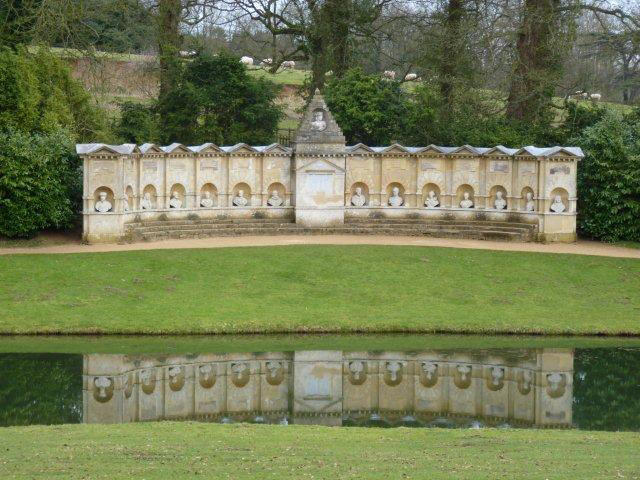 Week 96-97
Just after they went home to America there was a lot of activity. Mum cleaned the caravan and the car, a job which I could have helped her with, but no, I was trapped in the house and she struggled with the hosepipe on her own.
After much hard work the caravan was clean inside and out, the water system was sterilised and the packing complete. I began to think we would never get away, but finally on the 17th we hitched up and left home. Cotswolds here we come, at last summer is coming.
I spotted the caravans before we turned into the gate and just in case mum hadnít seen them I barked and barked. After all, I did not want her to miss the turning. We booked in and set off to find a pitch. This is a Loners meet, not a rally and so we are on a Caravan Club site.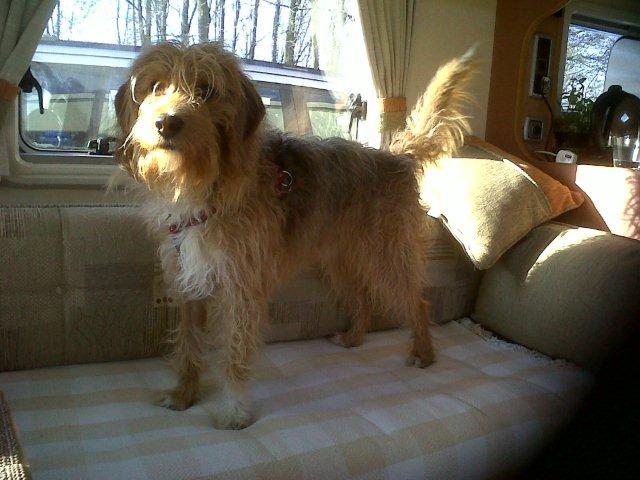 There is a small field for dog walking and each morning we go there and have a run around with any other dogs that happen to be there when we are.
We stayed here for 10 days and did quite a few things. We walked into Moreton in Marsh a few times to get our paper, we went to Stratford on Avon and Broadway, and Helen and Ed came to visit.
April week 98- 99
We had a couple of weeks at home when we all went swimming and mum went to her meetings, and then we were off to Ross on Wye with the caravan again. Our rally at Ross on Wye started on Sunday 10th April, although because I was rally officer, we had travelled down on Saturday meeting Robin half way there. Whilst mum was deciding where to site the caravans and which way we should face to get the best views and the sunshine, and chatting to Lynda the site owner, I had permission to have a little run around and stretch my legs after several hours in the car. This was our first visit here just north of Ross on Wye, and what a great place. A nice field, beautifully cut with views over the Welsh hills. Within a couple of minutes I found a lovely smell to have a roll in and then I jumped back in the car.
I did get in a bit of bother for this innocent roll, not once but several times, because I had rolled in fox poo. I got bathed in a bucket of cold water a few times, but the smell would not go away. The indignity of being sprayed with womenís perfume was all a bit much for a boy, but it was either put up with that or sleep in the car, so I took the perfume spray like a man.
The farm has a cider apple orchard and that is where we walked every morning. The weather was warm and sunny for our two weeks here and during our rally the apple blossom came out and it all looked beautiful. There is a cider brewery just down the road and they collect the apples every autumn and turn them into scrumpy. The apple trees had lots of mistletoe growing on them, enormous bunches that dwarfed the trees.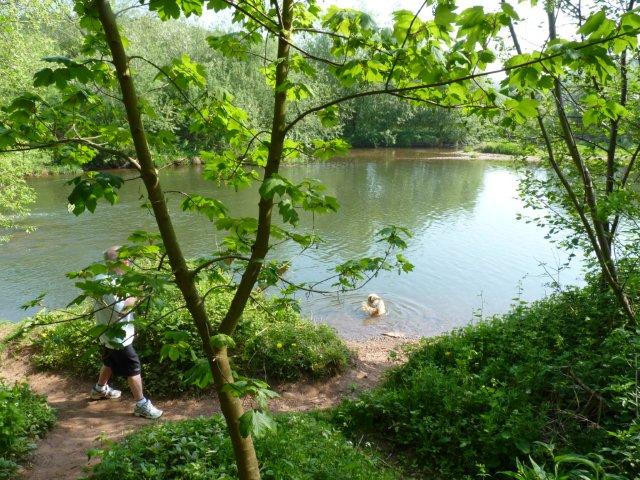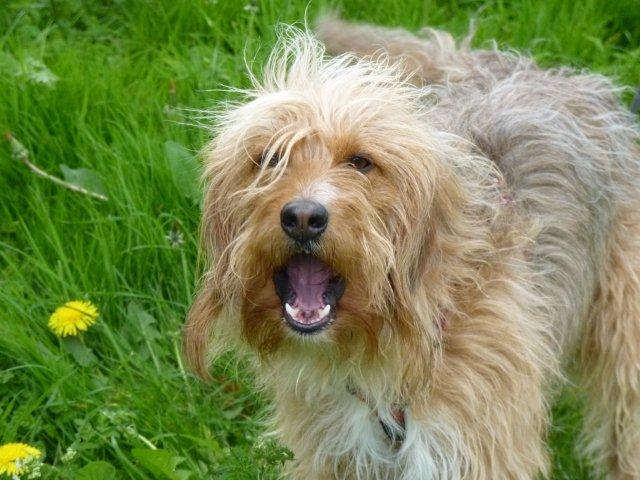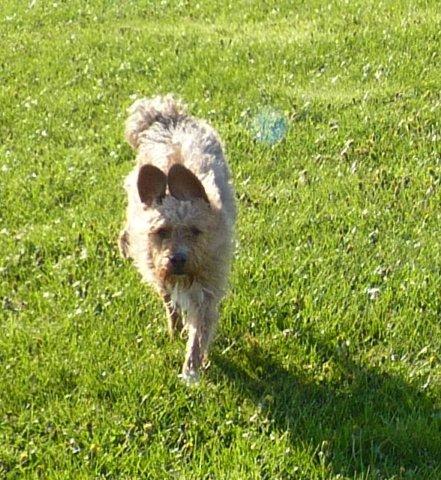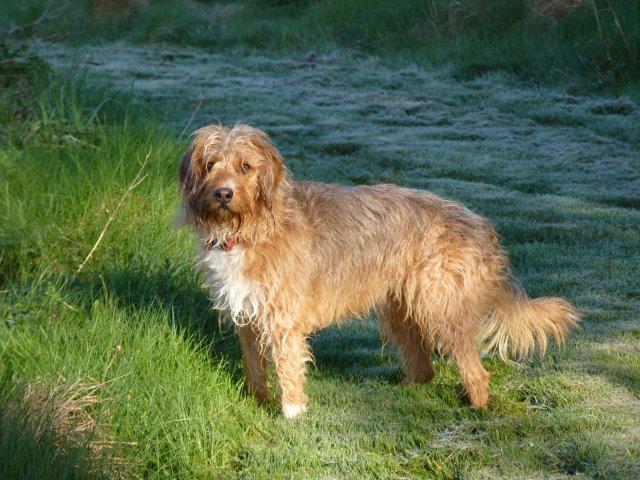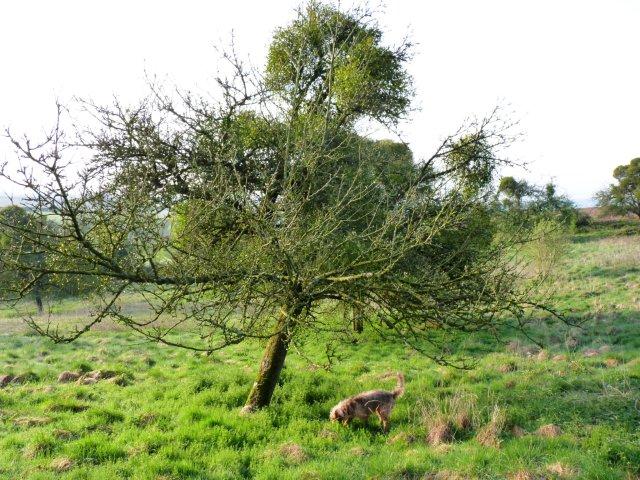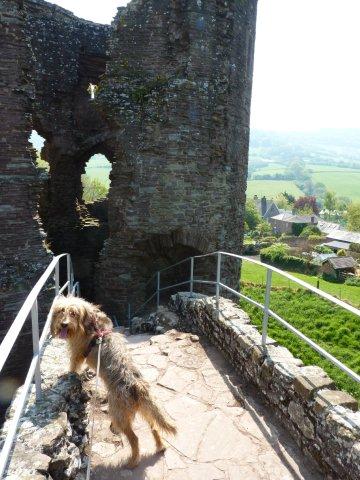 There were twelve caravans and motorhomes who came and went, but most stayed all the time. They came for tea and cake sometimes and sat and chatted. What do humans find to talk about all the time?
There are some great walks around here and a little church just down the road with medieval wall paintings. One day we went to Wales, a new country for me, but I had a paddle in the river and the water tasted just the same as it does at home. We had a day out with David and Robin and walked along the Tintern valley. We explored the Abbey, walked through the wild garlic on the hillside, crossed the river and came back via the old station tea room where we all had an ice cream and watched the children ride on the train.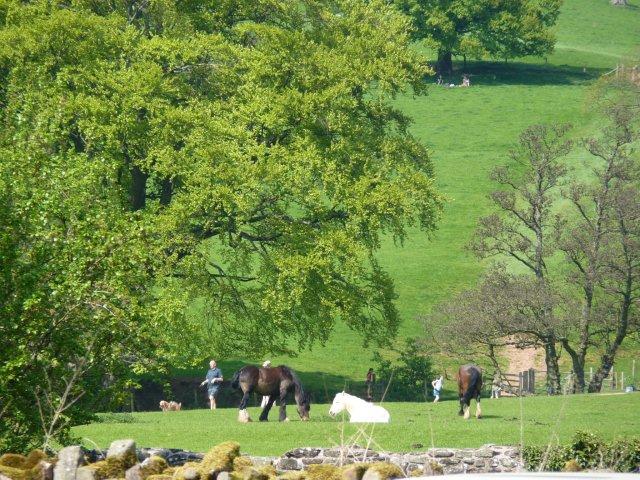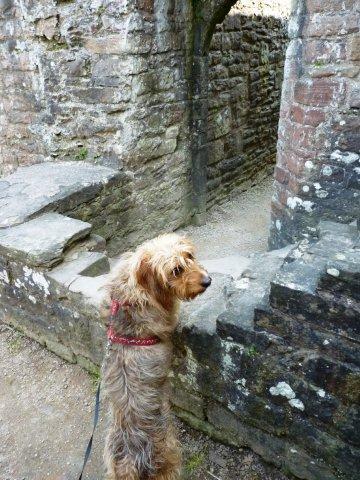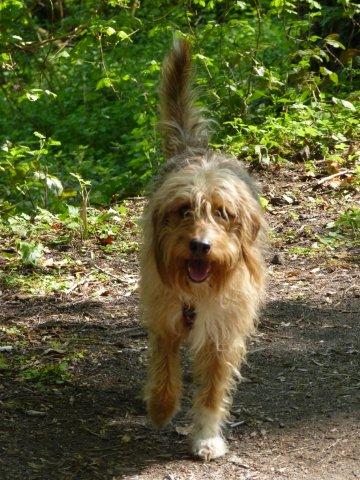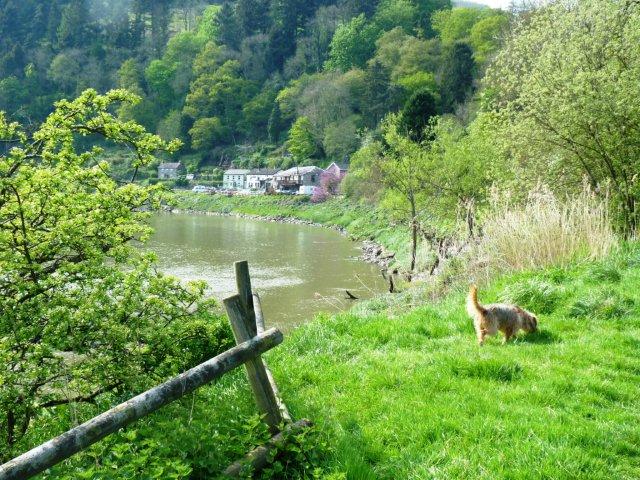 Another day John joined us and I went with the four of them to Llanthony Priory and a castle, and John and I had a little walk on Offaís Dyke. I thought a dyke was a ditch but we went up a hill, so how does that work?
Goodrich Castle was close by and worth a visit, although personally I think these castles were a bit cold and draughty to live in. Alright if you could be first to the fire perhaps, but cold stone floors to sleep on, I donít think so. We climbed up on the battlements and looked through the arrow slits to see if we could spot the enemy across the valley. Was the enemy the English or the Welsh? Probably both at various times.
Sometimes we just chilled out around the caravan and enjoyed the sunshine, hopefully the first sunny rally of many more to come this year. We made a booking before we left, for a return visit in August 2013; thatís what I like to see, a little forward planning!